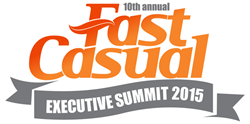 LOUISVILLE, KY (PRWEB) August 03, 2015
The publishers of restaurant industry news website FastCasual.com have announced the three finalists for "The Perfect Pitch" contest after an open nominations process. The finalists will present their concept to a panel of restaurant experts and a live audience on Oct. 20 in Miami during the Fast Casual Executive Summit at the Mandarin Oriental.
The finalists are:

Burgers n' Fries Forever (BFF) – located in Ottawa, Ontario, Canada – This concept opened its first unit almost two years ago. Along with burgers that are fresh, local and halal, they serve hand-cut fries with small-batch, house-made dipping sauces. The kitchen is open and the dining room described as "communal."
Mac n' Cheez – First opened five years ago, and now with five locations in Michigan, this comfort-food concept centers around creative styles of macaroni and cheese, such as the Extreme Veggie Mac or Spicy Beef Fajitas Mac, with salads and wraps rounding out the menu.
Pincho Factory – This 4-year-old concept currently has two locations: one in Miami and the other in Coral Gables, Florida. With an eclectic menu of burgers and kebabs, Pincho Factory has gone from an in-the-know locals' secret to a well-known Miami concept, gracing many national foodie "must try" lists.
To be considered, the restaurant concepts were required to have at least one store open, but no more than 10; be no less than six months old and no more than five years old; and owners needed to be willing to share revenue and average sales data.
The expert panel includes:
Ben Butler, Founder, Rock Creek MT LLC – Mr. Butler is an advisor and active angel investor in restaurants. He serves as a board director for AgroAmerica and as Oaktree Capital's board representative for Quiznos. Prior to his advisory practice, Mr. Butler spent 18 years with YUM! Brands (KFC, Pizza Hut, and Taco Bell) including serving as president of Long John Silver's and A&W restaurants.
David Oddi, Founding Partner, Goode Partners – Mr. Oddi is a founding partner of Goode Partners, a private equity firm that focuses exclusively on investment opportunities in the restaurant, retail, apparel, direct marketing, and branded consumer product sectors. Investments in the restaurant sector have included Chuy's, Elephant Bar, Marie Callender's, Mimi's Café, and Rosa Mexicano.
Larry Reinstein, President, LJR Hospitality Ventures – Mr. Reinstein's consulting firm provides solutions to private equity firms, owners and operators of restaurant companies. Having led multiple companies, he is one of the original innovators and leaders in fast casual with concepts such as Fresh City. Mr. Reinstein most recently served as president of Salsarita's.
The experts will provide on-the-spot advice to the entrepreneurs following their pitches. All three concepts have received numerous inquiries about franchise opportunities, and the owners are seeking advice on how best to grow their respective concepts into national chains.
The Fast Casual Executive Summit also features a fast casual restaurant food tour, a keynote by Jeremy Gutsche (founder of TrendHunter.com), breakout educational sessions, sponsor demonstrations of the latest products, and a dinner party at Bâoli restaurant and lounge in South Beach.
This Summit has been created specifically for c-level executives, VPs and directors for restaurant operators in the fast casual and QSR segments.
Registration is now open and early-bird pricing is in effect until Sept. 18.
About The Fast Casual Executive Summit
Networld Media Group, publisher of FastCasual.com, created this exclusive event for top-level restaurant executives, leaders, and innovators of the fast casual industry. In its tenth year, the Summit's goal remains to bring together an experienced group of restaurant professionals whose common interests and concerns are brought to the table for open discussion in a fun and relaxing environment.
About Networld Media Group
Founded in 2000, Networld Media Group is a leading business-to-business (B2B) media communications company specializing in digital media, associations and events in the mobile, self-service, digital signage, retail, food service and financial services industries. Online properties include ATMmarketplace.com, DigitalSignageToday.com, FastCasual.com, PizzaMarketplace.com, KioskMarketplace.com, MobilePaymentsToday.com, VirtualCurrencyToday.com, QSRweb.com, RetailCustomerExperience.com and ChurchCentral.com. The company produces executive summits in the fast casual, retail, ATM and mobile payments industries. Its custom media division develops Web sites, premium content and marketing services for associations such as the ATM Industry Association, the Electronic Funds Transfer Association and the ICX Association.
###