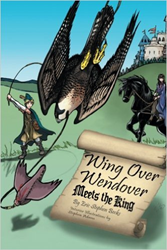 The awe of seeing a falcon stoop from a thousand feet still takes my breath away
MERCED, Calif. (PRWEB) August 03, 2015
There are few sights in nature more thrilling than watching a bird of prey soar through the air in search of its next meal. Falcons can reach speeds of 200 miles per hour as they dive towards their prey.
Eric Stephen Bocks was awestruck the first time he watched a falcon fly. After 27 years of training and flying falcons, he has been inspired to share his passion with others. His new book, "Wing Over Wendover Meets the King," tells an adventurous tale of sixteen-year-old Timmy and his falcon, Wendover, embarking on an unbelievable journey, traveling through time to eleventh century England.
In this, the third book of the "Wing Over Wendover" series, Timmy and Wendover are tangled up in a plot of international intrigue and the thrills of the hunt ensue. For Bocks, Wendover's stories flow naturally from experiences with his own birds.
"The awe of seeing a falcon stoop from a thousand feet still takes my breath away," Bocks said. "I start to see stories emerge from the flights – characters coming alive right before my eyes."
"Wing Over Wendover Meets the King" is a fun story for children of all ages, perfect for anyone interested in animals and adventures.
For more information, visit http://www.wingoverwendover.com.
Wing Over Wendover Meets the King
By Eric Stephen Bocks
ISBN: 978-1-50491-041-5
Available in softcover, e-book
Available on Amazon, Barnes & Noble and AuthorHouse
About the author
Eric Stephen Bocks is a master falconer who has been flying falcons for over twenty years – one of them being Wendover, a real bird who is enjoying his second season of flying. Bocks lives with his family in Le Grand, California. This is the third book in his Wendover adventure series.
# # #
For review copies or interview requests, contact:
Drew Tharp
317.602.7137
dtharp(at)bohlsengroup.com