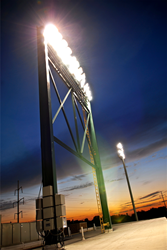 "We are excited to have the previously established and forward-focused JRC Lighting Professionals join our Sales Team...Qualite teaming with JRC is a win-win combination for our customers!"- Nick Page, Qualite President
Hillsdale, MI (PRWEB) August 04, 2015
As Qualite Sports Lighting continues to grow, the ability to team with established sales representatives to maintain valuable customer relationships is important. With the introduction of the Q-LED System, applying the newest LED technology to energy-efficient sports lighting solutions, as well as Qualite's existing sports lighting systems, customized options are available to fit sports facility lighting and budgetary needs. Nick Page, Qualite President and Chief Technology Officer comments, "We are pleased to have the previously established and forward-focused JRC Lighting Professionals join our Sales Team. Their knowledge of what customers need and want, expertise in lighting technology, and commitment to excellence is a good fit to understand the best lighting solutions for our sports lighting customers. Qualite teaming with JRC is a win-win combination for our customers!"
From University Campuses to Planetarium, Libraries, Malls, Zoos and Retail Stores, JRC Professionals are highly regarded as trusted lighting experts. Rich Palmer, Principal, JRC Lighting states "We at JRC are excited to be affiliated with Qualite Sports Lighting to service this important and unique market in our territory. Qualite Sports Lighting's core focus to be the best in class, coupled with new technology solutions, will ensure excellent value to the end user. At JRC we love to offer quality lighting solutions and Qualite Sports Lighting delivers!" From 1945 to present, JRC Lighting continues to represent quality lighting products to best serve the end user. "The inclusion of Qualite Sports Lighting Systems provides a comprehensive product line for JRC, and I am excited to work with JRC Professionals to provide the best possible sports lighting solutions which respond to customer needs", Roman Slaybaugh, Qualite Sales Manager - Mountain Region.
About Qualite Sports Lighting
Qualite has been the sports lighting partner for high schools, colleges, parks and recreation departments, and minor and major league sport franchises for over 30 years. In addition, Qualite has partnered with Ephesus Lighting to provide the highest quality LED technology for sports facilities, including the host stadium to the 2015 Super Bowl, The University of Phoenix in Glendale, AZ. Qualite's Q-LED system is the most energy-efficient, highest Lumen output LED lighting solution in the sports lighting industry.