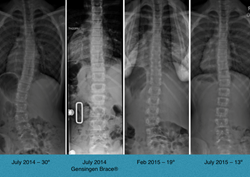 When an adolescent with a mildly moderate scoliosis is fit with a brace that aims for correction, there is an excellent chance for improvement. Brace wearing duration may also be reduced because a skeletally immature spine is more amenable to correction.
Boston, MA (PRWEB) July 31, 2015
When it comes to effective scoliosis treatment, being proactive allows adolescents and their families to avoid the unnecessary heartache and stress that often comes with a scoliosis diagnosis. Preventing scoliosis progression is rapidly becoming the treatment protocol of choice over the traditional "watch and wait" approach. Parents advocating for their kids are opting for the most up-to-date curve-pattern-specific scoliosis exercise protocols and bracing technologies. Many are finding their way to Dr. Marc Moramarco of Scoliosis 3DC, Boston, a Schroth Method expert and leader in conservative scoliosis treatment whose patients are experiencing exciting results.
Isabella is one of many Scoliosis 3DC 'superstars.' Isabella's mom noticed that something wasn't quite right with her posture when she was just eight years old. She took Isabella to three doctors who all dismissed her concerns. After performing the Adam's Forward Bend Test, the fourth agreed and ordered an x-ray. The x-ray confirmed that Isabella had scoliosis. She was ten years old. Her wise parents were not the type to sit back to 'watch and wait' while their daughter got worse. They wanted the most progressive and effective scoliosis treatment options available for their daughter.
They decided to visit Scoliosis 3DC for the two-pronged scoliosis management approach offered by Dr. Moramarco. The Boston-based program incorporates the newest Schroth Method advancements with the Gensingen Brace® for optimal scoliosis management and patient empowerment. Visiting Boston was no small undertaking since, while originally from North America, Isabella and her family currently reside in Japan.
Isabella first visited Scoliosis 3DC last July. Just ten years old at the time, she participated in Dr. Moramarco's Schroth immersion training program and he fitted her with the Gensingen Brace®. Her lumbar curvature measured 30º at the time. Not yet having had a growth spurt, she was at significant risk of progression. Isabella corrected to 7º in the Gensingen Brace®, a 77% in-brace correction.
Isabella had an updated x-ray last January which showed her 30º curve had reduced to 19º out of brace. An x-ray last week shows her curvature is now at 13º. Her case illustrates the message Dr. Moramarco tries to stress to all parents of kids with scoliosis. Conservative treatment, beginning sooner rather than later, which consists of the most effective bracing technology and newest, more user-friendly, Schroth therapy protocols can make scoliosis success stories a reality for more adolescents with scoliosis.
Isabella's parents have elected to get her a second Gensingen Brace® for nighttime wear. Due to her diligent compliance to full-time brace wear resulting in her impressive progress, she will need only wear her brace at night now. According to Dr. Moramarco, "If Isabella lived down the street she wouldn't be getting another brace right now, only careful monitoring and continued scoliosis-specific exercise. Since she still has significant growth potential, nighttime bracing in the Gensingen Brace® is the prudent move since Isabella still has growth ahead."
Scoliosis 3DC was founded by Dr. Marc Moramarco and his wife after he detected adolescent idiopathic scoliosis in their daughter in 2001. Their journey to uncover effective conservative treatment protocols for kids with scoliosis has propelled their efforts toward awareness and a paradigm shift for scoliosis treatment internationally. The Scoliosis 3DC back school program is built upon the foundations of the original German Schroth program but incorporates recent advancements. Those updates to the Schroth Method are outlined in a new Schroth Method Book – a collaboration between the Schroth family and the Moramarcos. The book is based on Schroth Best Practice® protocols. Dr. Moramarco introduced the Cheneau-style Gensingen Brace® in the United States in 2013.