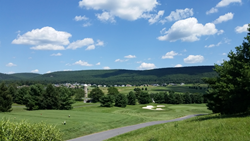 The same things that make Franklin County a great place for visitors to relax and recreate are the same thngs that attract people to live here.
Franklin County PA (PRWEB) July 31, 2015
The same things that make Franklin County a great place for visitors to relax and recreate are the same reasons that people like to live here. For the third consecutive time, Where To Retire magazine has named Penn National Golf Course Community one of the top 50 places to retire for its beautiful setting in the South Mountain as well as the hiking, golf, tennis, and swimming.
Penn National Golf Course and Golf Course Community, located few miles off the Lincoln Highway in Fayetteville PA, are surrounded by the history of the colonial, Underground Railroad, and Civil War eras. The Appalachian Trail is just a mile away and two Pennsylvania state parks are within five minutes not to mention the most stunning sunrises and sunsets can be seen on a daily basis.
Hand-in-hand with the beautiful vistas are the rolling farm fields where fresh, healthy crops are abundant throughout the growing season. The countryside around Penn National is dotted with creameries, roadside stands, and farm markets. Within a 20 minute drive there are four, award-winning artisan wineries, plus a wine and fruit trail, featuring small, family-owned businesses and artisans practicing generations-old craftsmanship.
Franklin County and Penn National Golf Course Community share fantastic location--less than two hours from D.C. and Baltimore and three hours from Philadelphia and Pittsburgh. It is a crossroads county and has been a transportation hub since the early days of America when horse and wagons traveled the turnpikes of the day. In 2015, Franklin County remains a strategic location on the East Coast—accessible to two-thirds of the East Coast's leisure travelers, businesses, and many who are seeking a good place to call home.
Penn National Golf Course Community has two golf courses—Founders & Iron Forge—both rated 4-stars by Golf Digest. Founders, designed by Edmund Ault, and Iron Forge, designed by architect Bill Love, are Zagat-rated 27 and 25 respectively, and each offer a very different experience. The community is not age-restricted and does not have mandatory membership amenities.
The Franklin County Visitors Bureau invites all to explore Franklin County PA and enjoy the trails of history, arts, recreation, natural beauty, fresh foods and the warm hospitality of communities like Fayetteville, Chambersburg, Greencastle, Mercersburg, Shippensburg, and Waynesboro. Franklin County PA is located just north of the Mason Dixon Line and is an easy drive to Washington DC, Philadelphia, and Pittsburgh. Discover more....plan a visit soon at ExploreFranklinCountyPA.com or by contacting 866.646.8060.