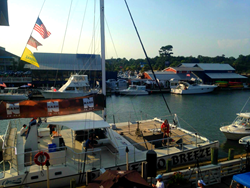 "It's so refreshing to see such a talented singer-songwriter at such a young age," said Chuck Wicks. "I see big things for this girl's future. She commands a stage and people listen."
Charleston, SC (PRWEB) August 02, 2015
Shem Creek was packed with live music lovers this past Thursday, July 30th, for 96.9 NASH FM's summer concert series. The event, which was free to the public, featured country music star Chuck Wicks, with singer-songwriter Chase Martin as an opening act.
Chase Martin has been a major topic of conversation in both Charleston and Nashville and is being recognized as a woman to watch within the country-pop music scene.
"It's so refreshing to see such a talented singer-songwriter at such a young age," said Chuck Wicks of the 16-year-old. "I see big things for this girl's future. She commands a stage and people listen."
On the deck of the Palmetto Breeze, a 1,700 square foot catamaran, Chase Martin opted to play a full acoustic set of both original music and covers. Her set ended with a rendition of Janis Joplin's "Me and Bobby McGee," which left the crowd on their feet, cheering in awe of the powerful performance.
"This girl is going to be big," said local music lover Charles Davis. "She has great stage presence and performs with such sincerity, but most of all her voice is crazy powerful. I've literally seen jaws drop when Chase hits those high notes."
Chase Martin is headed to Nashville next month, and will be touring in the Carolinas for the rest of the summer.
"Chase Martin is exceptional," said Chuck Wicks.
To learn more about Chase Martin or book a performance, please contact Rachel Mackles at 914-275-1227. Visit ChaseMartinMusic.com or find Chase on Facebook or Instagram.