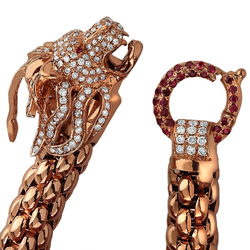 The symbolic meaning of lions, as one might imagine, primarily deals with strength.
New York, NY (PRWEB) August 03, 2015
The animal kingdom is a magical yet mysterious world, that we humans have been trying to figure out for many centuries. The most powerful animal to mankind, the Lion, has been bestowed 'King of the Jungle' for many reasons. In honor of the strength and power the 'King of the Jungle' represents, the master jewelers at Avianne & Co. have designed a one of a kind, elegant bracelet.
The bracelet is handcrafted in a choice of lustrous 14K rose gold, yellow gold or white gold and is beautifully adorned with radiant white round cut diamonds which totals to 2.50 carats. The details in the Lion's eyes and bracelet's lock are set with small red ruby gemstones. The fiery and captivating Ruby is a stone of nobility, considered the most magnificent of all gems, the queen of stones and the stone of kings.
This piece represents the team's creativity as the industry's trendsetters, always mining their archives for inspiration and diving into new product categories. The Lion Head Ruby Bracelet is a proud addition to Avianne & Co.'s collections of male and female diamond custom jewelry. Originally produced exclusively for one of the jeweler's private client's, the Lion Head Ruby Bracelet is now available for purchase online at http://www.avianneandco.com.
--
Established in 1999, Avianne and Co has become one of the largest jewelry stores on the East Coast. After two decades in the industry, the master jewelers have designed and built an exquisite gallery of the finest diamond jewelry from their flagship store located in the heart of New York City. The design and production of all jewelry pieces are handled in-house from wax model making, molding to gold casting and diamond setting, to assure the finest quality products