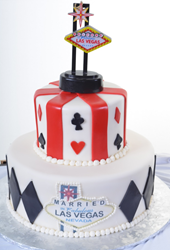 Las Vegas, NV (PRWEB) July 31, 2015
Well-known for its unique pastries and delicious confections, Pastry Palace, a popular Las Vegas bakery is now offering wedding cakes with custom designs, making life just a little bit sweeter for newlyweds. A family-owned business, the Pastry Palace works hard to deliver beautifully designed wedding cakes for each customer who orders one.
The bakery provides a full line of custom wedding cakes. Brides can select a design from this collection or suggest one of their own. The cake will be styled to meet the bride's specifications as closely as possible. Since custom cakes take longer to prepare, it is important for brides to provide ample notice of their order to the bakery.
Custom wedding cakes are prepared using quality ingredients and taste-tested recipes, ensuring that each creation is a vision of loveliness. Prices for custom cakes vary according to the number of tiers and the intricacy of the design. A wide assortment of wedding cake recipes is available, and brides are invited to choose more than one for multi-tiered cakes.
The master baker at this Las Vegas bakery believes that "brides deserve to have the wedding cake of their dreams." Therefore, he is willing to craft any design using exquisite decorating techniques and details provided by the bride. The staff at the bakery wants wedding couples to know that they are honored to be a part of the couple's special day when they are given the opportunity to bake the wedding cake.
Of course, the Pastry Palace has a full range of custom cakes for other celebratory events, including birthdays, retirements, and anniversaries. Each design is exquisitely crafted and decorated. The bakery's website (pastrypalacelv.com) features an online catalog of cakes. Designs are available for small, medium, and large wedding receptions.
About Pastry Palace
A family-owned bakery situated in Las Vegas, Nevada, the Pastry Palace specializes in the making of one-of-a-kind cakes, tantalizing pastries, distinctive cupcakes, and traditional baked goods created from scratch without the use of artificial preservatives. The bakery specializes in custom wedding cakes, offering brides and grooms an attractive selection of affordable options. The current assortment of designs includes designs that are simple, elegant, contemporary, and modern in styling. At the Pastry Palace, the master chef provides interested individuals with an opportunity to improve their skills of sugar artistry in one of his many classes.
Pastry Palace
4523 West Sahara Avenue
Las Vegas, NV 89102
info(at)PastryPalaceLV(dot)com
702.251.1555
Pastrypalacelv.com