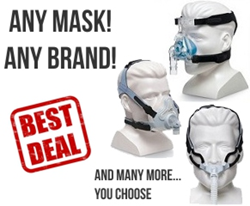 Las Vegas, Nevada (PRWEB) August 28, 2015
An online provider of CPAP machines, masks, supplies, and accessories, My Cpap Store is announcing its decision to make the purchase of CPAP equipment more affordable by offering shipping at no cost to you, directly to your door on all purchases. This offer includes all types of CPAP products and orders of any size. My Cpap Store is located in Las Vegas, Nevada.
Sleep apnea is a condition characterized by a number of symptoms that disrupt a person's ability to sleep throughout the night. These symptoms include but are not limited to loud snoring, insomnia, interrupted breathing, irritability, depression, weight gain, and the inability to remain asleep. It can lead to serious medical conditions including diabetes, hypertension, and heart problems. Typically, sleep apnea is treated through the use of CPAP machines that regulate breathing patterns by providing a continuous flow of air. A variety of masks make it easy to find equipment that is comfortable for your sleeping needs.
"Our customers are doing everything they can to deal with a diagnosis of sleep apnea, and here at My Cpap Store, we want to make sure that we are doing whatever we can to make their lives easier," stated a representative of this online store. "This offer of delivery services at no cost is going to make CPAP therapy more affordable, and it is the least that we can do for our customers."
Interested individuals are invited to visit the website for a look at available products as well as educational videos that provide a clear look at how to use the equipment. The website's customer service department can answer questions related to CPAP machines, masks, and supplies. If you would like to take advantage of the complimentary delivery offer for your purchase of CPAP equipment, please visit http://mycpapstore.com/ and place your order. No minimum amount is required, but orders must be sent to an address in the United States to qualify for complimentary delivery.
About My Cpap Store
An online provider of healthcare solutions and technology for individuals in need of CPAP machines, masks, supplies, parts, and humidifiers, My Cpap Store is located in Las Vegas, Nevada. This online shops sells products from brand-name manufacturers, and all of the items are new. As an online resource for CPAP equipment, the company is in a position to ship to destinations all around the world, including international locations. All orders being sent to locations in the continental United States now qualify to receive free standard shipping.
My Cpap Store LLC
6130 West Flamingo #543
Las Vegas, NV 89103
702.677.2575
info(at)mycpapstore.com
http://mycpapstore.com/
###