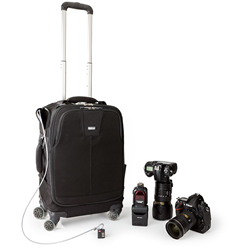 SANTA ROSA, CALIF. (PRWEB) August 04, 2015
Professional Photographer selected Think Tank Photo's Airport Roller Derby as the top rolling camera bag in the 2015 Hot One Awards. In the words of Professional Photographer, the Hot One Awards keep "a finger on the new and the notable and [honor] the brightest rising stars among photographic products and services released over the past year.... This collection of products represents the professionals' choices from what's new and hot, this year's top offerings."'
The Airport Roller Derby has eight wheels in four dual-wheel sets that give the bag three ways to roll: upright at your side, tilted on its back wheels, or tilted on its side wheels for a narrow profile. It's a high-capacity carry-on, designed to hold a 15-inch laptop and a full load of photo gear. Security features include a lock and cable and lockable zippers.
"We are deeply honored that of the hundreds of products reviewed by the judges, they selected the Airport Roller Derby for this prestigious award," said Doug Murdoch, Think Tank Photo's CEO and lead designer. "It reinforces our commitment to innovation and sourcing only the best materials."
About Think Tank Photo
Headquartered in Santa Rosa, California, Think Tank Photo is a group of designers and professional photographers focused on studying how photographers work and developing inventive new carrying solutions that meet their needs. They are dedicated to using only the highest quality materials and design principles, and employing materials that are environmentally benign.