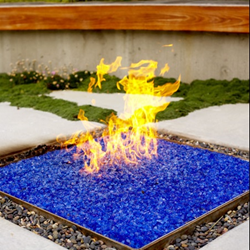 Whether used for a backyard patio or living room, fire diamonds add luxury and style to any home.
Temecula, California (PRWEB) August 12, 2015
Today, Fire Pit Essentials, a nationwide wholesale provider of fire pit glass, released a new line of fire diamonds for fire pits. Smoother and larger than traditional fire glass, fire diamonds allow for a modern design and aesthetic. Because of how they are tempered, fire diamonds provide users with a larger and fuller flame than its predecessors. Fire diamonds start at $3.97 per pound and can be purchased on Fire Pit Essential's website. They are available in two, never-before-used, colors: Tahitian and Deep Sea Blue.
Of the company's recent launch, CEO Andrew McLeod said, "I'm excited to offer Fire Diamonds to my valued customers. Their larger size and smoother edges will provide users with a richer flame than ever before. Between the flame-size and stunning colors available, I'm confident that users will be just as excited to use these diamonds, as I was to create them." Until recently, McLeod has mainly focused on crushed and ¼" fire glass, before deciding to cut and temper it differently, creating the new product. "I wanted to offer something that appeared sleeker and was more modernized for the average person," McLeod continued.
Similar in appearance to sea glass, fire glass is able to withstand an incredible amount of heat at a prolonged rate of time. After it is cut, the pieces are tumbled, smoothing out the edges, making the glass safe to be handled. An excellent alternative to traditional burning practices, it has been named the "modern-man's wood" and adds a sense of sophistication to any fire pit. Used with gas burning fireplaces and pits, fire glass and diamonds leave no trace of soot or ash behind after use. Whether used for a backyard patio or living room, fire diamonds add luxury and style to any home. In celebration of the release, Fire Pit Essentials will be giving a 10% discount on all fire diamond orders that mention the offer.
Fire Pit Essentials operates as a wholesale team, providing expertly crafted fire glass for their customers. Based in Temecula, California, they offer their product nationwide, for both indoor and outdoor use. All glass is selected from raw, untempered material, before being cut and tumbled in house. Available in seven different sizes, cuts, and many different colors, Fire Pit Essential's fire glass is certain to meet every individual's needs. Each order of fire glass comes with a customer service guarantee and a lifetime warranty, ensuring that only the highest quality products are made available for purchase.
END