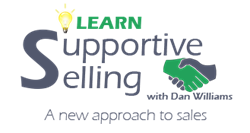 Sales professionals now have an even more powerful way to improve their performance and earn more commissions.
Columbia, Maryland (PRWEB) July 31, 2015
SIMmersion's groundbreaking sales training tool Supportive Selling with Dan Williams, featuring a simulated sales call brought to life with patented PeopleSim® technology, has received a major upgrade. The behavior of the virtual sales prospect, Dan Williams, is now more complex and nuanced to better reflect the way real humans behave.
In the upgraded version, Dan forms an ongoing opinion about the user as a salesperson that evolves as the interactions take place. Now Dan will have feelings about the user as a salesperson that are distinct from his feelings about the products. Dan Williams also has separate feelings about each of the different products the user attempts to sell. All of these different emotions will evolve during the exercise based upon the performance of the user.
The upgrade retains all the realism, detail and high training value of the initial release. Dan is portrayed by a professional actor rather than an avatar. Users receive instant feedback from a virtual coach and after-action reviews including a transcript and helpful commentary to assist their efforts to improve. However, the process of selling products to Dan Williams is now more nuanced. As a result, users get more realistic practice.
Earlier this summer, SIMmersion published a book detailing the sales techniques taught in the computer-based training product Supportive Selling with Dan Williams. By using the book together with the anytime, anywhere practice users can get from the upgraded online training, sales professionals now have an even more powerful way to improve their performance and earn more commissions on the job.
Both the state-of-the-art online training tool and the book teach users how to use the next generation of research-based sales techniques. The Supportive Selling model breaks a sales call into four steps. In addition, four overarching guidelines help sellers get into the mindset that will help them build a cooperative relationship with their customers. The techniques of Supportive Selling are based upon "motivational interviewing," an exhaustively researched communication style. Motivational interviewing techniques can help undecided or contrary individuals become more motivated to consider a change. The book and the online training combine to help sellers in any field develop the skills to support their customers while they convince themselves to make the purchase.
A free trial of the browser-based sales training system is available at http://www.SupportiveSelling.com. The book, Supportive Selling by Dale E. Olsen, PhD with Ben Allen-Kingsland, is available at Amazon. During the upgrade to Supportive Selling with Dan Williams, SIMmersion migrated the programming to its next generation software. As a result, this popular sales training tool will soon be available to use on mobile devices.
"I'm excited about this new capability," says Olsen, SIMmersion's CEO. "In the future, all of our products will be available to use on mobile devices."
About SIMmersion
SIMmersion's mission is to train communication skills faster and more effectively by combining the world's most realistic simulated experiences with highly interactive training content and extensive user feedback. For more information, contact SIMmersion online or at 443-283-2555.