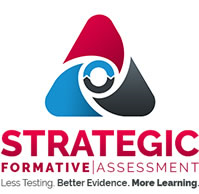 If you learn at the end of the school year that kids didn't learn anything, that's a disaster.
West Palm Beach, Florida (PRWEB) August 10, 2015
Learning Sciences International has teamed up with internationally respected education expert Dr. Dylan Wiliam to develop Strategic Formative Assessment professional development for teachers and administrators. The PD pack consists of full-day workshops, delivered by certified Learning Sciences Dylan Wiliam Center staff developers, to deepen educators' understanding of the five key formative assessment strategies that Wiliam has identified as those most likely to increase student achievement:

Clarifying, sharing, and understanding learning intentions
Engineering effective discussion, tasks, and activities that elicit evidence of learning
Providing feedback that moves learners forward
Activating students as learning resources for one another
Activating students as owners of their own learning
Wiliam's approach to embedding formative assessment into classroom practice is unique in that he considers assessment as being formative only when teachers, learners, and their peers can obtain, interpret, and use student evidence to make impactful decisions about next steps in instruction.
Strategic Formative Assessment focuses on helping educators develop the habit of continually eliciting student evidence throughout every lesson—minute-by-minute, day-by-day—so they are always aware of which students are meeting learning targets, which students require additional support, and which students may need extra challenges.
Wiliam's model aligns with research conducted by Learning Sciences, which supports using formative assessment throughout the school year. "If you learn at the end of the school year that kids didn't learn anything, that's a disaster," explains Wiliam. "Teachers need to develop the skills of figuring out what students are learning while they are learning and teachers need to change ingrained habits."
Each participant of Strategic Formative Assessment professional development receives an accompanying copy of Embedding Formative Assessment: Practical Techniques for K–12 Classrooms, authored by Wiliam and Siobhan Leahy. They designed this book to guide teachers working on their own or in small groups to develop their daily use of the key strategies outlined in both the book and the training. It includes worksheets, more than 100 techniques, and examples across all age ranges.
With recommendations to promote continuing education and sections on helping students assist teachers, the primary focus is to enable educators to easily assess student performance on an ongoing basis so they can make quick instructional decisions to ensure that all students are meeting learning goals. "We are addressing how to change what teachers do in classrooms while they are teaching," says Wiliam. The Strategic Formative Assessment professional development program was designed with specific recommendations and research-based insight to augment that effort.
Wiliam will present a webinar on Wednesday, August 12 at 3 p.m. EDT to provide greater detail about the Strategic Formative Assessment program and to answer questions for viewers. Anyone wishing to learn more may register online for this free information session.
Learning Sciences International, a leading provider of educational research and web-based and on-site solutions for professional development and performance management in education, supports schools and educational initiatives in 11 countries, 3 provinces in Canada, and 40 states in the United States of America. Based in West Palm Beach, Florida, the company currently serves 427 school districts; 5,575 school buildings; 311,000 teachers; and more than 4 million students in the United States. For more information about the Learning Sciences Dylan Wiliam Center, visit DylanWiliamCenter.com.