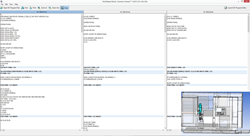 Charlotte, NC (PRWEB) August 03, 2015
Okuma Apps put the power of improving part quality, reducing costs and increasing profitability in your hands. Delcam's PartMaker Multi-Channel Viewer app in the Okuma App Store quickly and efficiently aligns multi-channel CNC programs side by side on one screen for easy viewing with a few simple clicks of a button. This unique technology makes it simple for users to see what's happening simultaneously on the machine and allows them to search and edit NC programs immediately and effortlessly.
A PartMaker product specialist provides each user with a customized machine configuration for their shop. Synchronized processes are displayed across multiple channels for nearly any multi-axis machine/control combination. The app also allows users to connect to a CNC editor to make changes or corrections to optimize programs increasing productivity and throughput.
PartMaker Multi-Channel Viewer features:

Viewing of multi-channel CNC programs side by side on one screen
Automatically displays synchronized processes across numerous channels
Easily searches programs and connects to a CNC editor for program changes or corrections
Compatible with all machine tools
Okuma's App Store is the industry's first and only centralized, online marketplace for CNC machine tool apps and related content. Okuma's open architecture control and Windows® are fully integrated allowing for true customization to suit particular machining needs. For more information on Delcam's PartMaker Multi-Channel Viewer App and to download apps visit http://www.myokuma.com/. To learn more about Delcam and the PartMaker Multi-Channel Viewer visit http://www.partmaker.com/multichannelviewer/.
About Okuma America Corporation
Okuma America Corporation is the U.S.-based sales and service affiliate of Okuma Corporation, a world leader in CNC (computer numeric control) machine tools, founded in 1898 in Nagoya, Japan. The company is the industry's only single-source provider, with the CNC machine, drive, motors, encoders, and spindle all manufactured by Okuma. The company also designs their own CNC controls to integrate seamlessly with each machine tool's functionality. In 2014 Okuma launched the Okuma App Store, the industry's only centralized online marketplace for machine tool apps and related content. Along with its extensive distribution network (largest in the Americas), and Partners in THINC, Okuma is committed to helping users gain competitive advantage through the open possibilities of machine tools, today and into the future. For more information, visit http://www.okuma.com or follow us on Facebook or Twitter @OkumaAmerica.
###