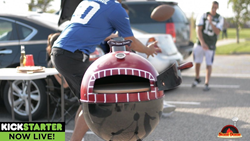 The Stone Dome Lets You Bring Brick Oven Quality Pizza To The Convenience Of Your Own Backyard!
NEW YORK, NY (PRWEB) August 10, 2015
The world's most affordable portable pizza oven makes it possible for people to enjoy authentic brick-oven pizza in any outdoor venue—in the backyard, on camping trips, or even on the beach—in only two to six minutes.
Silva has launched his Kickstarter Campaign on August 10, 2015, in order to raise $20,000 to fund the first production run. He plans to bring The Stone Dome to market by mid- to late December 2015 right in time for the holidays.
The Stone Dome advantage lies not only with its low price point, but also its ease of use—the pizza oven can be placed atop almost any charcoal grill, gas grill or wood fire pit to bake not only brick-oven quality pizza, but a variety of other cuisine, including but not limited to breads, cakes, and poultry.
The Stone Dome is designed for even heat distribution with a flat cordierite-stone surface and dome-shaped top. It reaches temperatures of 550°-850° F in approximately ten minutes, and has been designed for use with virtually any type of barbecue grill.
After more than a year and a half of development, prototyping, and testing, Silva's pizza oven is poised to provide strong competition to like-minded products on the market that sell for several times the cost of The Stone Dome, which will retail for $69.99. Early Kickstarter backers can benefit from two separate early-bird pledge levels.
"Trying to make pizza taste like it is made from a real brick-oven pizzeria has seemed impossible until now," said Silva. "With your support, we will take our project from a working prototype to our first official production run."
Silva and his team have preemptively forged relationships with stone suppliers and manufacturers in anticipation of a successful campaign.
The Kickstarter campaign for The Stone Dome has gone live on August 10th at the following web address:
http://www.bit.ly/stonedome
CONTACT
Facundo Silva
646-407-2317
Facundo(at)TheStoneDome(dot)com
http://www.TheStoneDome.com