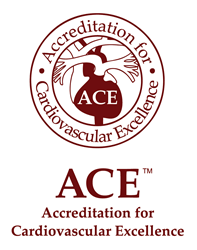 I'm a big fan of accreditation. I think accreditation of all labs across the country would enhance the delivery of cardiovascular care across the board. -- Kenneth Rosenfield, MD
Washington, DC (PRWEB) August 04, 2015
Following last month's successful rollout of its client video series, ACE announces the release of two new videos: The Benefits of Cath Lab Accreditation in an Academic Setting, and The Importance of PVI Accreditation.
In The Benefits of Cath Lab Accreditation in an Academic Setting, taped during the 2015 Society for Cardiovascular Angiography and Interventions (SCAI) Scientific Sessions in Las Vegas, NV, Chandan Devireddy, MD, FACC, FSCAI, Associate Professor of Medicine and Assistant Interventional Cardiology Fellowship Director at Emory University School of Medicine and Emory University Midtown Hospital in Atlanta, GA, discusses the advantages conferred upon his institution by ACE accreditation.
"Health care involves a need to deliver better value to the system, to improve the quality of care that we deliver to our patients, and to improve clinical outcomes and patient care overall," says Dr. Devireddy in the video. "We take exceptional pride in the fact that we have the ACE accreditation label for our cath lab, as it serves our mission as a teaching hospital and as a best-quality practice institution. The ACE label stands as an ideal for what we want to achieve in our program, and it helps us serve as an example for cath labs, both in our community and around the country."
In the second video, Kenneth Rosenfield, MD, MHCDS, MSCAI, Section Head, Vascular Medicine and Intervention at Massachusetts General Hospital in Boston, and president-elect of SCAI, discusses The Importance of PVI Accreditation.
"I'm a big fan of accreditation. I think accreditation of all labs across the country would enhance the delivery of cardiovascular care across the board," says Dr. Rosenfield in his video, produced at SCAI 2015. "The need for accreditation in the area of peripheral vascular intervention is probably as great as in any other area because of the high degree of variability across institutions in terms of training, the collection of data, the way procedures are performed, patient monitoring, and outcomes. This is much more highly variable within the peripheral vascular space than it is for coronary intervention."
"It is time we, as a specialty and as medical deliverers of health care, take upon ourselves the responsibility to ensure that we are offering the very highest quality of care for our patients, monitoring our outcomes, improving our processes, and using best practices," Dr. Rosenfield continues. "All of this is encompassed within the accreditation modules."
About Accreditation for Cardiovascular Excellence (ACE)
ACE is an independent organization sponsored by the Society for Cardiovascular Angiography and Interventions (SCAI). ACE offers independent evaluation and monitoring of facilities that provide cardiovascular care. By reviewing facility and operator performance and comparing clinical decision-making to nationally accepted best practices; ACE quality review and accreditation services play a critical role in continuous quality improvement programs. Learn more at http://www.cvexcel.org.