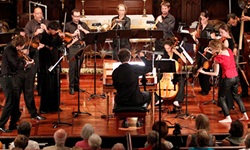 one of the most sought-after classical music experiences in Virginia
Staunton, Virginia (PRWEB) August 01, 2015
Lasting ten days and featuring nearly 30 concerts, lectures, and workshops, Staunton Music Festival (SMF) attracts over 60 of the world's finest chamber musicians and vocalists to one of Virginia's most charming historic communities.
The Staunton Music Festival has received high praise for its dynamic musicality and signature blend of whimsy and virtuosity. Now in its 18th season, SMF is known for its daring choice of programming, its stunning array of period instruments, and a commitment to some of the world's most exciting living composers.
With audience attendance now pushing past the 5,000 mark, the festival is quickly gaining a reputation as one of the most sought-after summer music experiences in Virginia.
The festival runs August 14, 2015 – August 23, 2015.
Among this season's renowned performers are Antti Tikkanen (violin), Minna Pensola (violin), Nina Stern (recorder, clarinet), Andrew Willis (fortepiano), Igor Begelman (clarinet), Kris Kwapis (trumpet), and Susan Botti (soprano and composer), Haleh Abghari (soprano), and Vladimir Mendelssohn (viola and composer.)
Complete concert details including full programs can be found by visiting the website. Selected concert highlights include:
Shakespeare on Love (Sunday, August 16 at 7:30 pm) — All works based on Shakespeare, includes the Telaio: Desdemona by performer/composer Susan Botti but also songs by Purcell from the late 1600s, music from Mendelssohn's Midsummer Night's Dream, and a concert suite from the greatest modern Romeo and Juliet adaptation, Leonard Bernstein's West Side Story. Presented at Blackfriars Playhouse, the world's only re-creation of Shakespeare's indoor theater.
Law and Desire (Monday, August 17 at 7:30 pm) — Featuring the works of four composers – Bach, Busoni, Mozart, and Wadsworth. Audiences will be introduced to a new world premiere by Zachary Wadsworth for two percussionists and two double basses alongside such recognized masterpieces as Mozart's Don Giovanni and Bach's Art of the Fugue.
Time Machines (Wednesday, August 19 7:30 pm) — This program explores aspects of time in music, and includes everything from the curious (Beethoven's canon for voices and metronome) to the deeply poignant (Messiaen's Quartet for the End of Time, written in 1944 concentration camp as a celebration and challenge to the human spirit).
The Future (is not what it used to be) (Thursday, August 20 at 7:30 pm) — An incredible program, featuring works that were considered avant-garde in their time. Starts with the most advanced music being written in Paris in the year 1200 (Perotin's Alleluia, unlike anything you've heard in a concert before); plus works by Liszt, Stockhausen, and others, and two feature works are Beethoven's 7th Symphony and his Grosse Fuge for string quartet, still considered one of the most incredible, complex, and strange musical pieces of all time.
Baroque Inside/Out (Friday, August 21 at 7:30 pm) — The complete period performance of Vivaldi's beloved Four Seasons; four different soloists offer their takes on the seasons, which range from tempestuous Winter to placid Spring. In between the concerts we cleanse the palate with madrigals by various Baroque masters, including Monteverdi, Gesualdo, de Wert, Lassus, and more.
St. John Passion (Sunday, August 23 at 3:30 pm) — Bach was deeply religious and was said to have composed five passions (settings of the life of Christ, primarily the events leading up to and surrounding his crucifixion.) Only two of these masterpieces survive, the St. Matthew Passion and the St. John Passion. Staunton Music Festival performed the full St. Matthew Passion last summer, and this season will follow up with the St. John Passion, an intensely dramatic work of epic proportions.
Season passes and evening tickets are available online or by calling 1-800-838-3006. All other concerts, lectures, and workshops are free and open to the public, space available. The full festival schedule is available online at stauntonmusicfestival.org
Staunton Music Festival
Established in 1998, the Staunton Music Festival (SMF) aims to engage and enrich audiences with a diverse selection of chamber music, performed by an exceptional group of international and American artists. Programs are consistently innovative, spanning music from the Middle Ages to world premieres of new music commissioned specifically for the Festival. For more information, stauntonmusicfestival.org