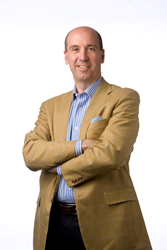 Taking small risks may very well be the safest thing bankers can do to position themselves for success in the years to come
Madison, WI (PRWEB) August 03, 2015
Today, students and educators at the University of Wisconsin's Graduate School of Banking (GSB) will gain invaluable insight into the current economic climate of our nation and the current banking industry as well as a glimpse into their future. Futurist Jack Uldrich will be addressing the GSB delivering his presentation: "Foresight 2020: The Twelve Trends Transforming Tomorrow."
Uldrich's aim is to help GSB students and professors hone in on how they can most effectively utilize their current knowledge, and develop new practices surrounding emerging technology to fuel innovative actions and empowering decisions.
A highly acclaimed keynote speaker and bestselling author, Uldrich focuses on emerging trends in a number of areas such as economics, agriculture, healthcare, finance, energy, the environment, Internet and communications. He goes beyond simple trend analysis and offers his audiences, like the GSB, practical tools for leveraging rapid technology-driven change, giving them the upper hand while forging ahead into the future.
Drawing on content from his upcoming book: "Business as Unusual: How to Future-Proof Your Business Against Tomorrow's Trends, Today," Uldrich will share insights on the top tech trends like Big Data, mobile banking, crypto currency and Uldrich's own view on leadership tactics: The Big AHA with his GSB audience members.
Other highlights will include learning to embrace ambiguity, exploring reverse mentorship, and why taking small risks may very well be the safest thing they can do to position themselves for success in the years to come.
With an engaging style and plethora of stories that make his ideas relevant, Uldrich offers a variety of informational resources for those interested in exploring the future. His blog posts offer a variety of thought provoking snapshots of emerging ideas, trends, and cutting edge technologies.
In the past year, Uldrich, who is also recognized as a leading expert in the field of change management and unlearning, has addressed dozens of organizations and several clients in a variety of industries including the American Medical Association, Wells Fargo, Florida's Urban Land Institute, The American Public Power Association, Blue Cross Blue Shield and Verizon Wireless, among others.
Parties interested in learning more about him, his books, his daily blog or his speaking availability or those wishing to know more about the event are encouraged to visit his website.