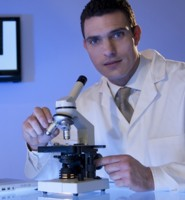 High expression of Ki67...was correlated with poor survival in the overall group
Raleigh, NC (PRWEB) August 02, 2015
Molecular biologists in New South Wales say a protein linked to cell proliferation could be a powerful prognostic indicator for mesothelioma. Surviving Mesothelioma has just posted an article on the new research. Click here to read it now.
Doctors at the University of New South Wales tested for Ki67 expression in tissue samples from 42 patients with peritoneal mesothelioma and found a direct correlation with outcomes.
"High expression of Ki67 (≥25% by immunohistochemical evaluation) was correlated with poor survival in the overall group," reports corresponding author and molecular biologist Krishna Pillai.
According to findings published in the American Journal of Clinical Oncology, Ki67 expression could be linked to prognosis in both men and women, especially those with the epithelioid subtype of mesothelioma.
"Although Ki67 has been found to be a valuable prognostic indicator in other types of cancer, this is the first study to suggest it may also be helpful in the management of hard-to-treat mesothelioma," says Alex Strauss, Managing Editor of Surviving Mesothelioma.
To learn more about peritoneal mesothelioma and how Ki67 may be used to help patients, see Protein Marker Linked to Prognosis in Peritoneal Mesothelioma, now available on the Surviving Mesothelioma website.
Pillai, K et al, "Prognostic significance of Ki67 expression in malignant peritoneal mesothelioma", August 2015, American Journal of Clinical Oncology, pp. 388-394, http://www.researchgate.net/publication/270730939.
For nearly ten years, Surviving Mesothelioma has brought readers the most important and ground-breaking news on the causes, diagnosis and treatment of mesothelioma. All Surviving Mesothelioma news is gathered and reported directly from the peer-reviewed medical literature. Written for patients and their loved ones, Surviving Mesothelioma news helps families make more informed decisions.