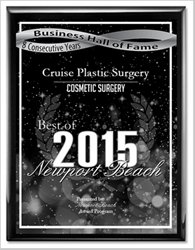 Newport Beach, CA. (PRWEB) August 01, 2015
Cruise Plastic Surgery has been selected for the 2015 Best of Newport Beach Award in the Plastic Surgery category by the Newport Beach Award Program. Cruise Plastic Surgery has also received the Business Hall of Fame award in recognition of receiving the Best of Newport Beach award for 8 consecutive years.
"I have spent close to 15 years dedicated to helping patients achieve their aesthetic goals through plastic surgery. I am always grateful and humbled when I receive an award in recognition of the work I do," states Dr. Joseph T. Cruise.
For more information about Cruise Plastic Surgery, please visit:
http://www.cruiseplasticsurgery.com
Each year, the Newport Beach Award Program identifies companies they believe have achieved exceptional success in their community and business category. These are local companies that enhance the positive image of small business through service to their customers and the community. These exemplary businesses uphold the reputation of Newport Beach as a great place to live, work and play. Cruise Plastic Surgery is one example of a business dedicated to serving the community with the utmost concern for providing exceptional customer service, patient care and safety, as well as privacy.
Winners in each business category are determined by information gathered by the Newport Beach Award program and data provided by third parties. The 2015 Newport Beach Award Program focuses on quality, not quantity. Hall of Fame awards are given when a business is recognized for the Best of Newport Beach award in consecutive years.
About Cruise Plastic Surgery:
Cruise Plastic Surgery, located in Newport Beach, Orange County, California, is one of the top plastic surgery practices in the Southern California region. The director, Dr. Joseph T. Cruise, is a fully trained, board-certified plastic surgeon specializing in facelift, breast augmentation, tummy tuck and other cosmetic surgery procedures. Dr. Cruise is also one of the region's best known surgeons for rhinoplasty (nose surgery), neck lift surgery and gynecomastia. His dedication and focus is clearly evident in the comprehensive, educationally-based web site he manages and the concierge-like customer service his patients receive from the entire office. Experience and predictably good results have earned him the distinction of being one of the best plastic surgeons in Orange County.