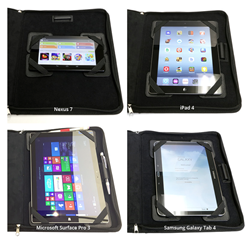 Chicago, IL (PRWEB) August 04, 2015
Sunrise Hitek has re-designed their business leather portfolio to accommodate essentially any tablet computer. To illustrate the features, they created this demo video https://youtu.be/XJLdYFaz-Ow. The padded leather portfolio offers great protection for iPad Pro, iPad 2/3/4, Air, Air 2, Mini, Mini 2, Mini 3, all Samsung Galaxy tablets from 7" to 12.2", all Microsoft Surface tablets including Pro 3/4, and all other tablets on the market up to 9.5"x12.5". Sunrise uses heavy duty velcro backed elastic tabs to create a custom fit for any tablet. The portfolio also features an exterior zipped pouch for bulky items such as keys and calculators, with an expandable file folder that offers plenty of storage for documents, brochures, and catalogs. A micro-fiber divider is sized perfectly for a 8.5"x11" notepad and protects the tablet's screen from scratches. It also features slots for business cards and credit cards, as well as two pen holders and a repositionable pen/stylus holder.
About Sunrise Hitek
Sunrise Hitek's üuber store, formerly known as iGear, is a leading maker of protective gear for Apple's iPad. The brand changed to üuber when the company started developing cases for other devices, such as the MacBook, Chromebook, and Samsung devices. Sunrise Hitek Group, LLC, owner of the üuber brand, also operates Sunrise Digital, a leading digital printing company based in Chicago. As a G7 Qualified Master Printer, Sunrise is uniquely qualified among protective gear makers to offer a wide array of customization options, ensuring the most consistent and accurate color reproduction. Sunrise is an Inc. 5000 company established in 1988 and employs the most advanced equipment and technology, such as G7-certified HP Indigo and UV flatbed presses, and digital die-cutting, to create best-in-class products. A privately-owned enterprise, the company is based in Chicago and sells products worldwide.