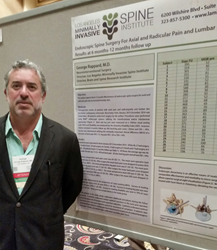 "Rappard and Sherlekar's findings add to the growing scientific data on the long-term effectiveness and safety of endoscopic spine surgery."
Las Vegas, Nevada (PRWEB) August 03, 2015
There were two independent groups at the annual Spine Intervention Society scientific meeting presenting their results with endoscopic minimally invasive lumbar spine surgery. The presence of multiple groups of investigators presenting data suggests that endoscopic spine surgery has become more widely accepted as a minimally invasive option for patients suffering from pain and disability due to herniated disc. Scientific meetings are a venue for physicians to share new data with the medical and scientific community.
Los Angeles Minimally Invasive Spine Institute director, Dr. George Rappard, shared the results of a study group of 70 patients, of which 28 were identified with 6 months to 1 year follow up after undergoing endoscopic surgery. Rappard, a neurointerventional surgeon, defined success as having achieved at least a meaningful and significant level of pain relief and diminished disability. Success in treating back pain was seen in 82% of cases. Success in treating leg pain was seen in 85% of cases and success in reducing disability was seen in 79% of cases. On average, back pain was reduced by 65%, leg pain was reduced by 72% and disability was reduced by 49%. The complication rate was 1% among all patients. Rappard notes that these results are consistent with the long term results of more invasive spine surgery.
American Spine physician, Dr. Sandeep Sherlekar, presented on behalf of his fellow investigators, doctors Atif Malik, Pratip Mandal and Said Osman. The group presented their results on 214 patients undergoing out-patient lumbar endoscopic surgery for the treatment of painful herniated lumbar disc. In this large patient cohort an average follow up of 6 months was noted in 102 patients. Dr. Sherlekar, a pain management and anesthesiology specialist, reported an average 26% drop in patient disability, meeting accepted standards for having achieved a significant and measurable success. The complication rate was 2% among all patients, similar to more invasive surgery. The study is on-going and the authors expect to report soon on the effects of surgery on emotional well-being and physical health.
A spinal disc is a cushiony and rubbery structure located between the bones of the spine. A herniated disc is a condition that occurs when a tear in the outer lining of the disc allows the soft center of the disc to protrude through the lining, causing pain and compressing the nerves of the spine. The condition is very common, occurring 3 million times a year in the United States. Some disc herniations get better on their own while some do not. Herniated discs are a common cause of back pain, now the leading cause of disability worldwide.
Endoscopic discectomy is an ultra-minimally invasive means of treating painful herniated discs that have not improved on their own or with therapy. Endoscopic surgery differs from commonly practiced forms of minimally invasive surgery in that surgery is performed through a tiny tube. The tube is small enough that in most cases it can be introduced into the spine without disrupting normal structures or cutting bone. The usual incision is about the size of a pinky nail. Surgery is performed with microscopic instruments, lasers and radiofrequency probes. Patients generally go home the day of surgery and recovery is rapid. Rappard and Sherlekar's findings add to the growing scientific data on the long-term effectiveness and safety of endoscopic spine surgery.
The Los Angeles Minimally Invasive Spine Institute was established by Dr. Rappard in 2012. The institute has its main office in the Miracle Mile region of Los Angeles. Dr. Rappard or Institute staff can be contacted at grappardLAMIS(at)gmail(dot)com, through the institute at 323-857-5300, or on the web at http://www.laspinecare.com
American Spine has 9 offices in Maryland staffed by 12 fellowship trained physicians. American Spine physicians include specialists in pain management and orthopedic surgery. Dr. Sherlekar can be reached through American Spine at 240-629-3939, or on the web at http://www.americanspinemd.com
For more information:
To learn more about minimally invasive and comprehensive spine therapies, visit the Los Angeles Minimally Invasive Spine Institute at http://www.laspinecare.com, or visit American Spine at http://www.americanspinemd.com