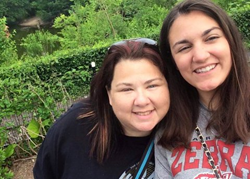 I can't put into words how much these girls have meant and continue to mean to me ... I've learned so much from each of them about their countries and cultures. They, in turn, have made fantastic friends in our small town ...
San Francisco, CA (PRWEB) August 03, 2015
Ayusa International, a non-profit organization that has promoted global learning and leadership through high school student cultural exchanges for more than 34 years, is intensifying its annual search for families in Oklahoma interested in hosting international students for the 2015-2016 school year.
Ayusa is looking for host families throughout the entire state, specifically in and around:

Oklahoma City, Midwest City, Edmond
Norman, Moore
Tulsa, Broken Arrow
Stillwater
Enid
Lawton
Claremore, Oklahoma resident Tonya Burton has hosted high school foreign exchange students six times from five countries: the Netherlands, Czech Republic, Germany, Italy and Ukraine. Along the way, she became a community representative for Ayusa International. Her most recent student, Elly, 17, from Italy, attended Claremore High School in the Tulsa metro area. Elly played competitive volleyball while improving her English and making excellent grades; in fact, she was inducted into the Claremore and Oklahoma National Honor Society.
"I really believe in my heart that hosting is something I am called to do," said Tonya. "I truly treasure the time spent with them, and the opportunity to give these students a wonderful experience of the U.S. while they're here. I can't put into words how much these girls have meant and continue to mean to me – we're still in contact, and I've been able to go to Europe and visit with several of them. In addition, I've learned so much from each of them about their countries and cultures. They, in turn, have made fantastic friends in our small town and consider their visit an 'awesome experience.'"
Ayusa works with diverse families who are interested in hosting an international student of high school age. Families without children, empty nesters, military families, retirees, and single people are all welcome. Ayusa families come from all 50 states and reside in rural, suburban and urban communities.
"Oklahoma is an increasingly popular destination for Ayusa exchange students in the U.S.," said Heather Wells, Ayusa regional manager for the Midwest. "Our families are known for their generosity and enthusiasm in sharing the rich history and traditions of America with visitors," she added. "Hosting an exchange student also allows families to learn about other countries and cultures, without the travel. If you've ever thought about sharing your Oklahoma lifestyle with a student from abroad, I encourage you to give us a call, or check out our website to read the many stories of these international friendships that last a lifetime!"
Host families provide the exchange student with three meals a day and a bedroom (private or shared). A professionally trained Ayusa representative supports each host family, student, and local school throughout the program year. Ayusa's exchange students are 15-18 years old and come from more than 60 countries around the world. All students are fully insured, bring their own spending money and are proficient in English.
How to Host an International Student
Interested families can learn more about the program and available exchange students, and request additional information by visiting http://www.ayusa.org or calling 1-888-552-9872.
The process to apply is simple. Families complete the online application, which includes questions about themselves and local high school, references, and a background check. Once the application is submitted, the local Ayusa Community Representative will conduct an in-home interview. They can also help each family with any questions they may have about the application or process.
After families are fully approved, they can select the Ayusa student they would like to host.
About Ayusa
Ayusa International (http://www.ayusa.org) is a 501(c)3 non-profit student exchange organization founded in 1981 and an official U.S. Department of State designated Exchange Visitor Program Sponsor. In addition, Ayusa administers high profile grant programs funded by the U.S. Department of State and other organizations. Ayusa is a sister company of Intrax, a family of organizations that provides a lifetime of high-quality educational, work and volunteer programs that connect people and cultures. Intrax is headquartered in San Francisco with offices on four continents.