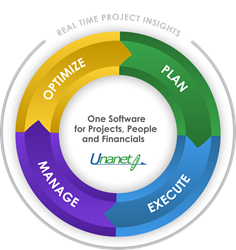 The new Unanet makes it easy for project-driven organizations to track progress and set realistic goals based on performance.
Dulles, VA (PRWEB) August 03, 2015
Unanet, a leading provider of software for project-driven organizations, today announced the general availability of its new, next-generation software. Built to support the needs of executives, project managers, operations and financial teams, Unanet's integrated capabilities now support comprehensive management throughout the entire project lifecycle.
Unanet developed this elegant solution for managing all back-end and front-facing operations in one system in response to industry-wide frustrations with manual system handoffs, process delays, inaccurate data, and wasted time reconciling multiple systems.
The latest update to Unanet's software offering, available both in the cloud and on premise, combines real-time visibility into portfolios of customer projects, project resources, direct and indirect costs, profitability, invoicing, revenue recognition, and performance against forecast and budget, with financial management capabilities for receivables, payables, general ledger and cost pool calculations. The addition of financial management capabilities gives managers the ability to monitor the entire bid-to-bill-to-book life cycle for time & materials, fixed price and cost plus projects. By optimizing projects, people, and financials in one easy to use web based product, Unanet customers will be able to improve accuracy and projections for their project-driven business.
"Project managers and finance teams are too often challenged with forecasting, labor tracking, expense reports, and financial plans across multiple software applications and spreadsheets. The result is bad data that leads to bad strategic decisions for these organizations," said Fran Craig, President and CEO of Unanet. "The new Unanet makes it easy for project-driven organizations to track progress and set realistic goals based on performance. We are proud to have created a means to eliminate unproductive effort and rework by providing end-to-end support and automation for our customers"
Unanet financials capabilities have been adopted by more than 35 organizations and almost 4000 users prior to general availability as part of an early adopter program, migrating away from a variety of legacy systems.
"Unanet is not only going to help us to manage our projects, but the fully integrated financials means a single transaction base for our business which is ideal for us," said Hugh Shaw, CFO of Ventera Corporation. "It's going to make us more efficient, and we'll be able to focus our activity and attention on managing and growing our business, rather than managing the actual transactions themselves."
Unanet software is proven through two decades of adoption in more than 1,000 project-driven and professional services organizations. With the introduction of Unanet's integrated financial capabilities and the company's growing partner network, these organizations now have an efficient way to strategically drive increased performance in one system.
Supporting Quotes:
Hugh Shaw, CFO, Ventera Corporation
"Unanet's software has made a world of difference for us because it is designed specifically for project management driven companies that are focused on efficiency. The integrated financial capabilities, project metrics, and intuitive user-interface that come with this software are unique and invaluable. Having the ability to integrate every aspect of a project in one system with Unanet financials has actually given our company a significant advantage."
Sam Jahanbeen, CFO, iNovex Information Systems, Inc.
With Unanet, the month end close is phenomenally smooth! The time saved on payroll, invoicing, and adjustment processes allows us to close the books five days faster. Having the ability to associate documents with transactions reduces record keeping effort and will make audits run more smoothly. Because of the integration and efficiencies of Unanet, we were able to eliminate a complex spreadsheet from our accounting processes. With the time savings, our finance team is now able to spend time on "transformational activities" such as working with the Project Managers on advanced and standardized reporting. This will embolden and arm the Project Managers."
Jennifer Warren, IntelliWare
"Our transition to Unanet financials was easy, efficient, and required minimal effort from our team. During the early adopter stage of Unanet Project Portfolio Financials we saw how the new software combines real-time data from the project management and financial departments at our fingertips. The ease of use and flexibility of Unanet's software compelled us to make the full transition immediately."
About Unanet:
Unanet is a leading provider of Cloud or On-Premise software for project-driven organizations. Unanet delivers skills management, resource planning, budgeting, and forecasting, time and expense tracking, billing and revenue recognition, project management reporting, accounts receivable, accounts payable, general ledger and cost pool calculations in one system . Over 1,000 organizations, including government contractors, professional services, and other project-driven organizations, rely on Unanet to maximize staff utilization, reduce administrative costs by 90%, improve invoicing by 10X, and support forward decision-making for improved operations. Unanet is the one software for projects, people and financials.