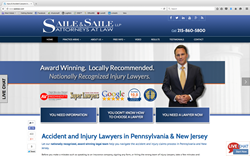 Providing useful information helps us achieve our goal to help level the playing field between powerful insurance companies and the inexperience accident victim.
Langhorne, PA (PRWEB) August 03, 2015
Bucks County personal injury attorney, Michael L. Saile, Jr., of Saile & Saile LLP announces the redesign of his Pennsylvania and New Jersey injury law website designed to help people who have been injured in a motor vehicle or construction accident, a slip and fall incident, or by abuse in a nursing home. Currently the http://www.sailelaw.com website hosts over 1,600 pages of content providing valuable information for injury victims.
The newly redesigned website is intended to help injured victims or their loved ones access information that can help them to learn about how to recover damages for medical bills, lost time at work, needed ongoing care, and the resulting emotional toll of a serious injury. Those who have been injured often find themselves not knowing where to turn as they recover from a personal injury.
The site allows anyone access to articles, videos, news items, books, and answers to frequently asked questions. Saile & Saile LLP's extensive blog library addresses current injury issues, such as the May 2015 Amtrak Train 188 Derailment that occurred in Philadelphia as well as lesser known local automobile accidents in a way that can help an injured individual better understand what to expect. The site includes free access to two published personal injury guidebooks authored by Mr. Saile, who is both knowledgeable and experienced in the specialty of personal injury law.
Michael L. Saile, Jr., Esq. writes, "knowledge and experience in the personal injury claims process is critical in order to have a chance at recovering fair compensation from a powerful insurance company."
Licensed for over 12 years, Mr. Saile is a nationally recognized Pennsylvania personal injury law and DUI defense attorney practicing in Pennsylvania and New Jersey. He has been named to the following lists and/or designated:
A-V Preeminent® Rated by Martindale Hubbell for Highest Level of Professional Excellence
"Rising Star" by SuperLawyers.com
10.0/10.0 "Superb" Rating – Avvo.com for Experience, Industry Recognition, and Professional Conduct
"Top 40 Under 40" attorney by the National Trial Lawyers Association (NTLA)
"Top 40 Under 40 Business and Community Leaders" by the Bucks County Courier Times/Calkins Media
"Top 10 Under 40 Pennsylvania Personal Injury Lawyers" by the National Academy of Personal Injury Attorneys (NAOPIA)
"10 Best Under 40 Pennsylvania Personal Injury Lawyers" by American Institute of Personal Injury Attorneys (AIOPIA)
"Premier 100" Civil Trial Attorneys – Pennsylvania by the American Academy of Trial Attorneys
"10 Best Pennsylvania DUI Lawyers" by the American Institute of DUI Attorneys (AIDUIA)
"Top 40 Under 40 Criminal Defense Lawyers" in Pennsylvania by the American Society of Legal Advocates (ASLA)
"Top 100 Pennsylvania DUI Attorneys" by the National Advocacy for DUI Defense Attorneys (NADD)
"10 Best Under 40 Pennsylvania Criminal Law Attorneys" by the American Institute of Criminal Law Attorneys (AICOLA)
"Bucks County's Most Happening Lawyer – 2012" by the Happening List
Mr. Saile is also a published author of two consumer oriented books in the personal injury field and he has been named to the group known as America's Premier Experts. His legal expertise has been spotlighted on the Consumer's Advocate TV Show which has been featured on NBC, ABC, CBS and FOX affiliates across the Country.
Saile, an Eagle Scout, also gives back to his community and holds a position on the Board of Directors of the non-profit, TODAY, Inc., a community drug and alcohol rehabilitation alternative to incarceration.
The NJ & PA injury law firm of Saile & Saile LLP is located in lower Bucks County, Pennsylvania, just north of Philadelphia and minutes west of Trenton, New Jersey. We represent injured victims of accidents throughout the states of New Jersey and Pennsylvania, and those arrested for DUI. We can be reached toll free at 800-860-5801.