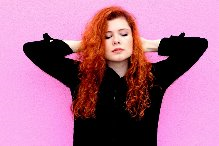 Listen to it now on Sound Cloud: https://soundcloud.com/lauren-waller-8/never-were
Los Angeles, CA (PRWEB) August 02, 2015
Lauren Waller is a Los Angeles based artist, singer, poet, lyricist, and musician. She has previously shared the stage with several world-renowned musicians. Her powerhouse voice has been featured in NME music news magazine, as well as Alert the Globe, an international website for musicians and music lovers. In addition to her passion for music, Lauren is pursing a college degree in Theater Production and Design, with an emphasis in stage management.
Lauren Waller has been selected to represent the Irish community of Southern California at the upcoming 2015 International Rose of Tralee Festival in Ireland, a global celebration of Irish culture. The Irish Nation cherishes its relationship with people of Irish ancestry living abroad and the Festival includes such women from all around the world. The heart of the prestigious Festival is the selection of the International Rose, a woman chosen to serve as a goodwill ambassador for the Festival and for Ireland during her twelve-month reign. The multi-faceted selection process seeks to find a relevant, independent, modern, young woman of Irish lineage who can represent the aspirations, ambitions, intellect, social responsibility and Irish heritage of the Irish people.
Dáithí Ó Sé, celebrity television presenter and public figure, hosts the RTÉ televised finale of Ireland's most famous national and internationally acclaimed festival, which takes place over two nights on August 17th and 18th, 2015.
Lauren Waller previously debuted the song "Never Were" at the Rose of Tralee regional competition held in Portlaoise, Ireland this past spring. "Never Were" features an alternative/pop/ska beat with a catchy melody and haunting lyrics; listen to it now on Sound Cloud: https://soundcloud.com/lauren-waller-8/never-were.
For contact, management and licensing inquiries contact Feinberg & Waller, APC, Marshall W. Waller: mwaller(AT)feinbergwaller.com; (818) 224-7900.