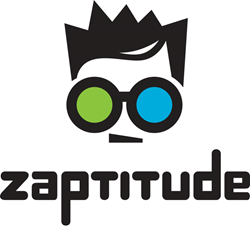 Zaptitude's Good Influence platform, now integrated with the Marketo engagement marketing platform offers marketers an opportunity to turn customers into advocates through the power of referrals.
Morristown, NJ (PRWEB) August 04, 2015
Zaptitude, the company dedicated to helping businesses maximize sales through customer referrals with its patent-pending, cloud-based platform, Good Influence™, today announced that it has joined the Marketo LaunchPoint® ecosystem. This partnership provides Marketo users with full integration of their Marketo CRM data into Good Influence referral marketing toolset. This gives marketers the opportunity to:
*Access full, closed-loop reporting within Marketo from social share to referral, and all the way through to conversion.
*A/B test multiples campaigns, creatives and incentives to see the how each performs within Marketo.
*Instantly add new leads generated by Good Influence campaigns to Marketo.
Good Influence was developed with a unique purpose: to help organizations use the positive influence of existing customers to drive new customers. The platform, which is fueled by a patent-pending technology, combines the power of traditional, social and digital media to give businesses the tools to encourage referrals across all channels and then accurately attribute conversions.
Despite that fact that studies show that 65 percent of all new business comes from referrals, 72 percent of marketers don't include referral marketing in their plans today. With Good Influence now fully integrated into Marketo, users will be able to incorporate referral marketing into their digital marketing plans.
"By integrating the Good Influence platform seamlessly with Marketo, we've given marketers the opportunity to close the loop on their referral marketing campaigns," says Zaptitude CEO, Dan Lynn. "We know that 83 percent of consumers are willing to refer after a positive experience, yet only 29 percent actually do. By adding Good Influence to the marketing stack, marketers are giving their customers the tool they want to spread the word about the products they love – and they'll be able to track the impact of those referrals, end to end, thanks to this integration."
Marketo LaunchPoint connects customers with more than 400 technology and service providers that offer best-of-breed solutions for today's marketers. Solutions available in this ecosystem span analytics and big data, content marketing, events, advertising campaigns, sales tools, social media, and top-of-funnel video solutions.
"Zaptitude's Good Influence platform, now integrated with the Marketo engagement marketing platform, offers marketers an opportunity to turn customers into advocates through the power of referrals," said Lou Pelosi, senior director of LaunchPoint at Marketo. "As the role of the marketer continues to evolve, Marketo is committed to cultivating an open platform that empowers customers with the latest and most innovative solutions for their business needs."
To learn more about Good Influence for Marketo, visit http://launchpoint.marketo.com/zaptitude/1876-good-influence/.
*About Zaptitude*
Zaptitude is dedicated to helping companies maximize sales through customer referrals. Our patent-pending, cloud-based platform, Good InfluenceTM, uses the social media influence of existing customers to drive new customers at scale. Good Influence offers companies a powerful set of referral marketing engagement tools including refer-a-friend, gamification, couponing, and more, to easily and cost-effectively launch, manage, and measure large-scale, custom referral campaigns across leading social channels. Our ground-breaking real-time optimization engine helps marketers determine the optimal mix of incentives that delivers the greatest results at the lowest possible cost. Our innovative reporting technology tracks the ripple effect of each referral and its resulting sales so marketers can understand their most influential customers and the ROI of each campaign.
Founded in 2012 by a team of award-winning entrepreneurs and technologists, Zaptitude is proudly headquartered in Morristown, NJ. Current clients include major retail, CPG and non-profit brands that have seen measurable growth in brand awareness, brand engagement and revenue. Learn more at http://www.zaptitude.com.
*About Marketo*
Marketo provides the leading marketing software and solutions designed to help marketers master the art and science of digital marketing. Through a unique combination of innovation and expertise, Marketo is focused solely on helping marketers keep pace in an ever-changing digital world. Spanning today's digital, social, mobile and offline channels, Marketo's Engagement Marketing Platform powers a set of breakthrough marketing automation and marketing management applications to help marketers tackle all aspects of digital marketing from the planning and orchestration of marketing activities to the delivery of personalized interactions that can be optimized in real-time. Marketo's applications are known for their ease-of-use, and are complemented by the Marketing Nation®, a thriving network of more than 400 third-party solutions through our LaunchPoint® ecosystem and over 50,000 marketers who share and learn from each other to grow their collective marketing expertise. The result for modern marketers is unprecedented agility and superior results. Headquartered in San Mateo, CA with offices in Europe, Australia and Japan, Marketo serves as a strategic marketing partner to more than 4,100 large enterprises and fast-growing small companies across a wide variety of industries. For more information, visit http://www.marketo.com.