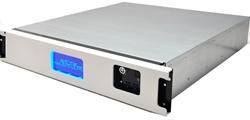 The JMR DataMover appliance will set new industry milestones in delivering unparalleled, secure data transfer performance and convenience for any market application that requires the most expedient means to transfer data across LAN, WAN, and GAN networks
Chatsworth, CA (PRWEB) August 03, 2015
JMR Electronics, Inc. a leading manufacturer and systems integrator of scalable storage solutions announced today the general availability of their new BlueStor™ DataMover™ appliance.
The JMR DataMover appliance is a high speed enterprise class data mover that operates at near line speed and is independent of file size or depth of directory nesting. This allows users to quickly and easily transfer large and small files across networks, whether locally, across the nation, or around the world. The system includes the capability to compress, de-duplicate, encrypt, and difference data, in virtually any combination, during data movement. All of these features operate at full bandwidth, independent of any latency introduced by the distance between the source and destination.
With the DataMover, typical transfers across a 10GbE fiber optic link are in excess of 925MB/s with a 300ms latency and approximately 1.1 GB/s with lower latencies. JMR has tested file transfers inclusive of media files, such as DPX, large contiguous mezzanine files, and metadata files that typically choke even the highest bandwidth connections.
The system includes a 2U appliance running CentOS and the DataMover application, which uses TCP/IP for orderly accelerated transactions and "drop-in" implementation with existing infrastructures. The appliance provides dual GbE and dual 10GbE networking ports and includes a custom, easy-to-use GUI that is compatible with Windows, Mac, and Linux OS.
A typical deployment would consist of two DataMover units. A user would go to the simple user interface on one of the units, and select the file or folder to transfer and enter the IP address or name of the other JMR unit. The hybrid software and hardware solution will analyze and configure the transfer to account for latencies and different file types, sizes, and quantity. Simply pressing the transfer button starts the transfer, while real-time transfer status and progress bar are provided to the user.
"Our DataMover appliance will set new industry milestones in delivering unparalleled, secure data transfer performance and convenience for any market application that requires the most expedient means to transfer data across LAN, WAN and GAN networks," said Josef Rabinovitz, president and CEO of JMR Electronics. "Imagine the cost and time savings in markets like finance, oil and gas, high performance computing, digital cinema, broadcast, media streaming, genome and the like in the reduction of transfer time per file for a given bandwidth, and the resultant benefit of being able to send more files in the same timeframe is a significant performance achievement. To help facilitate ease-of-transfer convenience, the system also incorporates a web-based directory/folder directory which allows any authorized users to upload and download files with a simple browser plug-in. Best yet, each DataMover is priced from $15,995."
About JMR Electronics
JMR is a leading manufacturer and systems integrator of scalable storage systems for high performance and capacity driven applications for multiple markets including; video and post-production, military and government, education, VOD, DCC, gaming, security, medical imaging, HPC and Web 2.0. Since 1982, JMR's reliable and innovative RAID systems are proudly made in the U.S.A., manufactured entirely from their Chatsworth, California facilities. JMR's complete line of Lightning™, SilverStor™ and BlueStor™ Cloud-ready rackmount and desktop solutions are built to handle the most demanding project needs from ingest to deliverable. Reliability. Innovation. Performance. This is JMR. For further information please visit http://www.jmr.com or call (818) 993-4801.