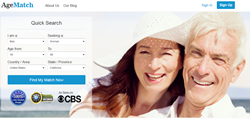 Age Gap Dating - Age Match
Florida (PRWEB) August 05, 2015
Renowned 'age gap dating' service AgeMatch.com recently made changes to its user interface. The website is now easier to navigate and features are accessible with relatively great ease.
A representative of the site said, "We have always tried our best to make the website user friendly so that people from across the globe can make the most of our services and find true love. Since the introduction of this site, we have made constant efforts to simplify the user interface and improvise on the existing set of features. In the recent years, we also added a lot of interesting options that have been customized according to the needs of our audiences."
In addition to refreshing the UI, AgeMatch.com has also revamped its existing set of features thereby making them more effective and accurate. However, no changes have been made to the subscription packages.
US based dating expert Derrick Hall said, "A lot of people that join these websites are first time users. All they need is a simple user interface and an effective set of options that would help them communicate with a prospective partner. Packing too many features only confuses them and makes it tougher to find a companion."
AgeMatch.com was launched in 2001 and has been the preferred choice among those seeking a younger or older companion. The website boasts of a membership base of over 500,000 users from across the globe and is loaded with over 30 different features. The website is absolutely free to register with but premium packages are available for those looking to unlock all the options.