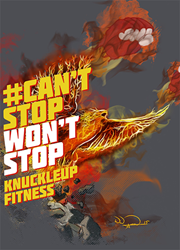 "We've always defined excellence in Martial Arts and Fitness training in Atlanta. With this new facility we aim to raise the bar even higher." CJ Wilson
Atlanta, Georgia (PRWEB) August 04, 2015
KnuckleUp fitness, the premiere Atlanta martial arts and fitness training facility is pleased to announce the Grand Opening of a new flagship gym on Sept. 1st, 2015. This new 13,000 sq. ft. state-of-the-art facility will be located at
4540 Roswell Rd.
Sandy Springs, GA 30342
"We're excited to be in this new location," says CEO and owner CJ Wilson, "The new gym is inside the Perimeter, only half a mile from Chastain Park. It's a prime location right in the middle of the action for one of the fastest growing areas in Atlanta. " CJ also noted that the gym will be part of the new Sandy Springs Gateway Development project, which is designed to make the city more friendly for walkers and other health minded individuals. "It's a natural fit since KnuclkleUp has been at the leading edge of health and fitness in the Atlanta for over a decade."
KnuckleUp Fitness, an institution in the Atlanta Fitness scene, will use the new facility to take their membership experience to new levels.
"With over 13,000 square feet of gym space, we'll have 50 heavy bags to accommodate the best kickboxing classes in the industry, 5,000 square feet of mats and 2,400 square feet of circuit training space."
CJ also says the new gym will feature amenities and services never before offered at KnuckleUp such as CrossFit and others to be announced soon. "I've been with KnuckleUp for over a decade and all that time we've always defined excellence in Martial Arts and Fitness training in Atlanta. With this new facility we aim to raise the bar even higher," he says.
To celebrate the grand opening of the new location, KnuckleUp Fitness is offering the best ever offer for new members.
For a limited time only, $1 dollar will pay for three months of training! This offer will only be available during the pre-sale period the new flagship Sandy Springs/Buckhead location. For more information call at (404) 339-KICK, or email us at info(at)knuckleupfitness(dot)com