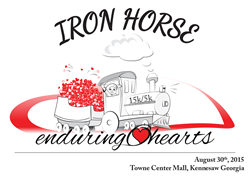 Running the Iron Horse for Enduring Hearts not only allows our office to support a great cause, but gave the staff an opportunity to have fun together
Marietta, GA (PRWEB) August 31, 2015
The Marietta dentists and staff at Verde Pointe Dental Associates have a heart for those with vital organ transplant issues. The doctors and staff ran a 5K race, the Iron Horse for Enduring Hearts on August 30th, 2015. Dr. Suzanna Aguilera DMD, Kirk Kimmerling DDS and Garrick McGrath DMD sponsored the event to help support projects with funding to increase understanding of clinical and scientific issues of transplantation.
Enduring Heart's mission is to enhance vital transplant lives by funding research. The grants go to established members of academic staff at universities, transplant centers and research institutes. Particular interest has been established in the area of longevity for organ transplants, with specific emphasis on pediatric recipients, and vital organs such as the heart.
Enduring Hearts operates out of Marietta, GA, and is currently accepting donations through their website, http://www.enduringhearts.org. All proceeds donated from the race benefit the Enduring Hearts Charitable Endowment.
Verde Pointe Dental Associates and staff were happy to run the 5K course. "Running the Iron Horse for Enduring Hearts not only allows our office to support a great cause, but gave the staff an opportunity to have fun together," said Dr. Aguilera. "Their commitment to help those with such great needs get a better chance at life is inspiring."
Kirk Kimmerling DDS and Suzanna Aguilera, DMD are cosmetic dentists and emergency dentists paving the way for the future of dentistry. The office is technologically sophisticated in not only equipment and procedures, but also developing dental materials via Kimmerling Holdings Group, LLC and fiteBac SkinCare, LLC, Dr. Kimmerling's biotechnology firms. The dental clinic invites new patients to meet their exceptional staff and experience and benefit from state of the art dental care. The office offers a broad range of services from teeth cleaning, teeth whitening, dental whitening, dental veneers and dental implants, dental bridges, dental crowns, dental fillings, tooth implants and veneers, toothaches and root canals.