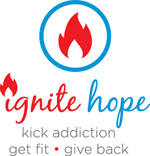 Arlington Heights, IL (PRWEB) August 04, 2015
Ignite Hope, a 501(c)(3) non-profit whose mission is to help at risk young adults overcome addiction by providing exercise and volunteering opportunities, today announced that it has been selected by Whole Foods Market of Schaumburg, IL, to be a part of their annual "5% Days," Community Support Program. From 8:00 AM until 10:00 PM on August 11th, five percent of Whole Foods sales for the day will be donated to Ignite Hope.
Made up of professionals and led by a state-registered psychotherapist, Ignite Hope is committed to making a difference in the community and the lives of young adults recovering from substance abuse. Ignite Hope helps young adults, ages 16 to 25, recovering from addiction get healthy through exercise and volunteering opportunities. The program connects participants with a growing number of fitness partners for free monthly access to their facility in exchange for 1 hour of charity work within the community. Ignite Hope encourages individuals recovering from addiction to make getting fit - and giving back - a part of their new lifestyle and to create positive social groups in the process.
"What makes Ignite Hope unique is that participants, affiliates and the community all benefit from working together as these young adults transition from structured rehabilitation programs to a balanced lifestyle of recovery and health," said Kate Schneider, CEO and Founder of Ignite Hope. Ignite Hope is currently partnered with some of the leading fitness facilities including 9Round Boxing, Corepower Yoga, and the Arlington Heights Park District. Ignite Hope is also partnered with the Almost Home Foundation, an all-volunteer, nonprofit animal rescue serving Elk Grove Village and the surrounding communities.
Participants can remain with Ignite for up to one year by simply keeping to their commitments. At the completion of the year, participants are eligible to apply for an Ignite Hope Loyalty Grant. Starting at $1,000 these grants are used to further the participant's education or personal enrichment. Ignite Hope expects the partnership with the Schaumburg-based Whole Foods to further support their mission of helping struggling youths while raising awareness to a broader audience on the effects of addiction.
"Everyone knows someone who has battled with addiction, but it's something that is not openly discussed," said Cheri Buell, the Marketing and Outreach Specialist of Whole Foods. "By hosting our next Community Support Day for this amazing nonprofit we hope to help shed some light on how young adults recovering from addiction can take back their lives through healthy living and giving back to the community."