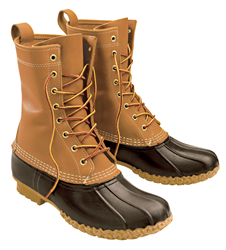 It's very exciting to be opening our first Kansas store, giving the area residents the opportunity to experience our brand in 3-D, as our stores are where the L.L.Bean catalogs and web site come to life.
Freeport, ME (PRWEB) August 03, 2015
Internationally recognized outdoor retailer L.L.Bean, best known for its Bean Boot, everyday free shipping and 100% satisfaction guarantee is set to expand its retail operation with the opening of its first Kansas store, scheduled to open November of 2015, just in time for the holidays. The new L.L.Bean store will be located at Town Center Crossing, a unique open-air shopping destination and along with sister center Town Center Plaza, is home to over 90 of Kansas City's finest stores and restaurants. The 15,000 square-foot store will employ approximately 100 people and will feature an assortment of active and casual apparel and footwear, as well as outdoor lifestyle gear including hiking, fly-fishing, kayaking and winter gear and camping products. L.L. Bean will open next door to Drunken Fish on the east end of the center. This will be L.L.Bean's first store in Kansas and its 26th full retail store outside of Maine.
"Most folks in the Kansas City area only know us by our catalogs and web site," said Ken Kacere, senior vice-president and general manager of retail at L.L.Bean. "It's very exciting to be opening our first Kansas store, giving the area residents the opportunity to experience our brand in 3-D, as our stores are where the L.L.Bean catalogs and web site come to life. And with the area's active, outdoorsy lifestyle, we know that Town Center Crossing is going to be a great home for us."
L.L.Bean made the decision to expand its retail presence into Kansas as part of its overall retail expansion plan and due to the high level of brand affinity the area residents have for L.L.Bean. In addition, the area is also in proximity to several abundant natural resources, numerous parks and opportunities for many outdoor activities, as well as a population base that enjoys engaging in a variety of outdoor pursuits. The store will allow the people of the Johnson County, greater Kansas City and beyond to experience first-hand everything that the legendary outdoor retailer has to offer, such as quality merchandise, a welcoming shopping environment and a large roster of ongoing demonstrations and clinics on a number of outdoor topics.
Of particular note will be the inclusion of L.L.Bean's Outdoor Discovery Schools, which will offer demonstrations, clinics and introductory hands-on activities like snowshoeing, kayaking, stand-up paddleboarding, archery and fly casting, all designed to make it easy for people to engage in outdoor activities for health, fitness and recreation. L.L.Bean Outdoor Discovery Schools courses are offered at every L.L.Bean Retail Store. In 2014, over 130,000 people participated in these programs.
"We are thrilled to bring the first L.L.Bean store in our region right here to Town Center Crossing," said Leonard Corsi, general manager of Town Center Crossing and Town Center Plaza. "L.L.Bean has built a great reputation in this area through its catalog and web site. The retail store however, will take it to another level, with hands-on experiences customers of all ages will be sure to enjoy."
The new L.L.Bean store in Kansas is scheduled to open in November of 2015 in time for the holiday shopping season. In 2014, L.L.Bean opened three new store locations in Burlington, VT, Bloomington, MN, at the Mall of America® and at the Park Meadows Retail Resort, just outside of Denver. In 2015, L.L.Bean has announced new store locations in Richmond, Virginia, Cleveland, Ohio and Columbus, Ohio. L.L.Bean will continue to announce additional store opening locations in the future.
About L.L.Bean, Inc.
L.L.Bean, Inc. is a leading multichannel merchant of quality outdoor gear and apparel. Founded in 1912 by Leon Leonwood Bean, the company began as a one-room operation selling a single product, the Maine Hunting Shoe. Still family owned, Shawn Gorman, great grandson of Leon Leonwood Bean, was named Chairman of the Board of Directors in 2013. While its business has grown over the years, L.L.Bean continues to uphold the values of its founder, including his dedication to quality, customer service and a love of the outdoors. L.L.Bean products are rigorously tested, guaranteed to last and always shipped free. In the past five years, L.L.Bean has donated over $6 million toward conservation and land stewardship. The 220,000 sq. ft. L.L.Bean retail store campus in Freeport, ME, is open 24 hours a day, 365 days a year and welcomes more than 3 million visitors every year. L.L.Bean can be found worldwide at http://www.llbean.com, Facebook, Twitter, YouTube, Pinterest, Google+ and Instagram.
# # #