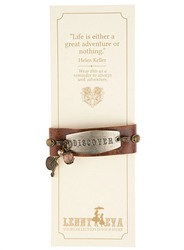 Our customers are huge fans of the uniqueness and versatility of Lenny & Eva
(PRWEB) August 04, 2015
My Royal Sister, a Lenny & Eva Jewelry online retailer, is excited to announce the arrival of a new line-up of limited edition Lenny & Eva Jewelry for 2015. The new Lenny and Eva Jewelry introductions for women, available in-store or online with free shipping from My Royal Sister, include many new Trousseau bridal designs and a new line of limited edition jewelry sets. Highlights of the new Lenny & Eva jewelry offerings include free limited edition charms, exclusive My Royal Sister limited edition pairings, and new Trousseau bridal sentiments in brass and Silver.
Lenny & Eva jewelry blends bohemian style with a chic vintage appeal. My Royal Sister is excited to offer new Trousseau jewelry for brides and bridesmaids seeking this elegant style. The Trousseau collection of bracelets, necklaces, and sentiments focuses on special interchangeable jewelry that adds an elegant touch to a bride's special day. Trousseau sentiments range from friendship quotes, such as the "We'll be friends until forever" sentiment, to more romantic quotes for the bride, such as "Whatever our souls are made of" sentiment. Whether on the entire wedding party or the bride alone, My Royal Sister believes that Trousseau pieces are a wonderful accessory and finishing touch for many brides' styles. The trousseau beaded bracelets and necklaces are intended to be a more elegant and refined look for the wedding day.
"Trousseau isn't only for the bride to be and her bridesmaids. The dainty single gem necklaces are perfect for everyday layering and the sentiments speak to anyone that shares a beautiful relationship with someone else," says Katie-Beth Payne, the My Royal Sister fashion accessories buyer.
The Lenny & Eva Limited edition sets are only available from My Royal Sister for a short time and predicted to be popular with MRS customers. All limited sets come with a limited edition charm that acts as a unique interchangeable piece intended to add personality to the jewelry.
"Our customers are huge fans of the uniqueness and versatility of Lenny & Eva. Adding a Limited Edition Set that features a new and different charm that customers will not see again will add an additional element of diversity and fun to their personal collections. With new monthly additions, it is like opening a Christmas present twelve times a year," says Payne.
Lenny & Eva sentiments come in two sizes; the larger size features a quote and the smaller size features a word. The salvaged quote and small word sentiments have been a classic jewelry item and the basis of Lenny & Eva's success. Sentiments are meant to be a woman's stylish way to wear her personality and express herself through her jewelry. There are multiple new large and small sentiments for this year, many of which are part of a limited edition pairing available at My Royal Sister. Available in brass and silver, Lenny & Eva sentiments continue to enhance the individuality and personality of Lenny & Eva jewelry. Lenny & Eva Jewelry is a perfect blend of chic and vintage that can be layered and tailored to reflect a woman's own unique style.
A purveyor of salvaged sentiments, Lenny & Eva focuses on designing women's jewelry pieces that reveal one's self expression. By combining quotes and word sentiments as well as unique pendants with bracelets, leather cuffs, necklaces and charms, customers can create a vast collection of versatile and interchangeable jewelry.
My Royal Sister is an authorized retailer of Lenny & Eva jewelry. Located 30 minutes north of Atlanta, Georgia in historic downtown Duluth at 3129 Main Street, My Royal Sister features boutique women's clothing and jewelry. The Lenny & Eva pieces mentioned in this article are available in store or online at myroyalsister.com.