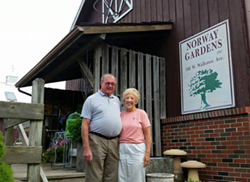 Our business is selling success in gardening and landscaping.
(PRWEB) August 05, 2015
Norway Gardens is for sale. Tom and Amy Herman, owners, are looking toward a new chapter in their business. Hoping to retire before too long, they have put Norway Gardens on the market in hopes of finding buyers who share their love of gardening and who are committed to offering outstanding products and service to Monticello and White County. They are not closing their doors. Business will continue as usual and by finding suitable new owners, Tom and Amy are confident that Norway Gardens will continue its important place in Monticello's business community. Real estate representative for this new venture is Joe Boarini of Quest Commercial Real Estate in Indianapolis IN. He can be contacted at 317-431-7794.
Forty-five years ago Tom and Amy Herman, two young teachers, decided to change careers. They purchased a small garden and gift shop in Monticello IN. Known as Long's Garden Shop, it was housed in a building that had once been a one-room school and later a church. Its owners operated a seasonal business offering bedding plants for about three months in the spring and garden accessories throughout the summer and fall. Inside the building was a gift store with an assortment of artificial flowers and giftware. After purchasing this business, the Hermans changed the name of the business to Norway Gardens since it was located in the unincorporated village of Norway just north of Monticello.
The new name was just the beginning of the changes. Through the years Norway Gardens has grown and now has a wide variety of offerings. The original building houses a gift store that features fashion accessories, home and garden décor, candles and much more. In addition a building was erected next to the Gift Store to house the Garden Center, which offers not only trees, shrubs, perennials, and annuals but also complete gardening supplies. Other buildings were added to service the Landscape Division of Norway Gardens and four greenhouses were built so the company could grow the high quality plants its customers had learned to expect. Two years ago the newest addition was made to the business: a full-service Floral Shop.
Tom and Amy Herman have not strayed far from their teaching roots. Throughout their years of business their goal has been to provide customers with not only excellent products but also to offer the knowledge homeowners need to be successful in their garden and landscape ventures. Selling success has been a priority and Norway Gardens sends out newsletters weekly with garden tips plus periodically offers workshops and seminars to help their customers learn the tips so important in making gardening a rewarding pleasure.
As they offer their business for sale and pursue this newest venture in their lives, the Hermans hope to see Norway Gardens continue to serve Monticello and White County for years to come.