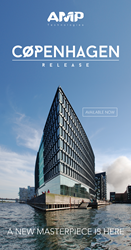 "AMP takes pride in the product it has created, and in the impact it has on the daily lives of Commercial Real Estate professionals". -Neel Naicker, CEO/Co-Founder
San Ramon, CA (PRWEB) August 04, 2015
AMP Technologies has shown over and over with each monthly product release that they are a company built upon the needs of their customers. AMP has maintained its forward momentum by meeting customer questions with product updates that make managing Commercial Real Estate streamlined and simple. The Copenhagen Release is a true testament to this upward trajectory. Not only has AMP improved their current platform, but the Silicon Valley commercial real estate software company has added an entirely new segment to an already impressive suite of products.
Copenhagen or København – CLICK TO LEARN ABOUT COPENHAGEN
"The city of Copenhagen is a beautiful juxtaposition of classical European architecture and cutting edge, stunning modern structures. This month's release both builds upon the original and powerful AMP platform, while introducing something brand new. AMP takes pride in the product it has created, and in the impact it has on the daily lives of Commercial Real Estate professionals. The Copenhagen Release is the latest technology in a wave of innovation from AMP Neel Naicker, CEO/Co-Founder, AMP Technologies.
A New Segment in Single Family Assets - CLICK FOR A CUSTOM DEMO
The Copenhagen Release brings with it a new segment to compliment the already impressive suite of products at AMP Technologies. The AMP Platform is now able to manage Single Family assets in addition to commercial office space, retail, industrial spaces, student housing, and multi-family assets. Users can now manage complete single family portfolios containing one to thousands of assets in one simple place.
Users with single family portfolios are now able to sort and filter their assets regionally, sub-regionally, by market, and by division, allowing users see their entire portfolio in a way that makes then successful. The Copenhagen Release also replaces a traditional stacking plan with individual floor plans for a more succinct and visual user interface that is useful and efficient.
Along with a brand new segment, The Copenhagen Release brings with it updates to the already powerful Asset Management Platform. AMP is now equipped with a faster back end, and is also compatible with new operating systems like Microsoft Edge and Windows 10.
About AMP Technologies – CLICK HERE