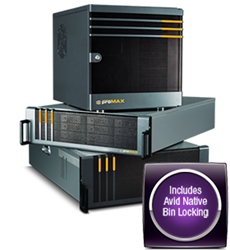 We've got multiple editors as well as assistant editors, producers and writers involved in post. ProMAX Platform's Avid project sharing enables seamless and simultaneous access to the project media just like an Avid ISIS®
Santa Ana, California (PRWEB) August 05, 2015
ProMAX Systems, world leader in integrated workflow technology for creative media organizations, today announced a major upgrade to its Platform Workflow Server, ProMAX Platform Version 4.6 with Avid Collaboration Features.
As part of Version 4.6, ProMAX Platform now includes Native Avid Bin Locking (Project Sharing) at no additional cost to customers that have an active software support plan. This new feature set operates on all Platform Shared storage devices, including the Platform Online, Platform Studio and Platform Portable.
With this latest release, ProMAX Platform provides identical functionality to Avid ISIS® when using Media Composer® allowing multiple editors to collaborate and work seamlessly on a project simultaneously without having to budget the high cost of an Avid Unity® or Avid ISIS®.
"ProMAX is committed to innovation and solving the problems that aren't being solved," stated Jess Hartmann, CEO, ProMAX. "This new release allows creatives to be truly collaborative. Editors who are used to Avid environments will feel right at home as Media Composer® acts identically when working on Platform as it does on an ISIS® ."
"We are extremely happy with ProMAX Platform's new Avid collaboration features," stated Fred Garcia, Post-Production Technical Manager, Orion Entertainment. "We're in production with one of Orion's Show's on the DIY Network and it's a monster of a show. We are shooting three seasons in one summer with nine crews spread out all over Alaska. We've got multiple editors as well as assistant editors, producers and writers involved in post. Platform's Avid project sharing enables seamless and simultaneous access to the project media just like an Avid ISIS®."
By combining Platform's Avid Collaboration features with its powerful workflow server capabilities, the potential for increasing workflow efficiency is endless. Platform is a true shared storage solution for 4K workflows with the video performance to support full resolution 4K editing for up to 5 users or 10 total streams of ProRes 422 HQ Ultra HD. What sets Platform apart from other storage systems is its ability to accelerate content creation. Platform Servers manage multiple production processes, including media asset management, transcoding, and rendering that would typically be executed on individual workstations. Because Platform has direct access to the media it can accomplish these operations more efficiently, meaning you'll finish projects faster and deliver better results for your customers.
ProMAX Platform Version 4.6 Avid Collaboration Features is expected to be released and available for download on 8/7/2015.
For more information on Platform, pricing and where to buy, visit http://www.promax.com
###
About ProMAX
ProMAX is the world leader in integrated workflow technology for creative media organizations. For over 20 years, we've built a worldwide client base of tens of thousands of customers, helping them find the most efficient, cost effective and reliable solutions to their production challenges with our range of workflow servers, workstations and archiving technology. From ingest to edit, from playout to archive, we've evolved our thinking to focus on the real needs of our customers – bringing everything they need together in a truly integrated solution. Whether they are creatives working in Film/TV, broadcast, post production, education, government, corporate or other industries, our customers trust ProMAX to be at the heart of their creative process. Visit http://www.promax.com for more information.