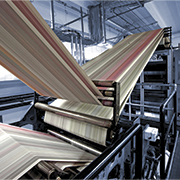 This high-capacity press will help Lightning Labels more effectively meet its twin objectives of quality and quantity without compromising the signature lightning-fast speed we pride ourselves on
Denver, CO (PRWEB) August 04, 2015
Lightning Labels is pleased to announce the recent installation of a state-of-the-art digital press at its Denver facility that will usher in a new standard of sticker and label-making for the company.
"This high-capacity press will help Lightning Labels more effectively meet its twin objectives of quality and quantity without compromising the signature lightning-fast speed we pride ourselves on," said Julie Waldrop, production manager at Lightning Labels. "We are excited to appeal to new customers with an even better product than before, and to raise the bar even higher for those who already know and love our crisp, vibrant, durable labels."
Why the New Digital Press?
The state-of-the-art digital press comes with numerous accolades, including:

Most productive in its class
A digital color printing process (liquid ElectroInk technology) that can go toe to toe with gravure printing without the time investment associated with rotary printing
The Intertek Green Leaf Mark, which signifies compliance with environmental regulations such as Restriction of Hazardous Substances laws and Eco Design requirements
Lightning Labels was particularly attracted to the press' application versatility. The solution comes with the ability to print on a wide variety of paper and synthetic substrates, including heat-sensitive materials, without requiring pre-planned treatment.
For Lightning Labels, Efficiency is the Name of the Game
Eliminating the need for pre-planned treatment isn't the only time-saving feature of the new press that Lightning Labels appreciates. The digital press also comes with an Enhanced Productivity Mode option that hastens press throughput for white ink and color by 25 percent and 33 percent, respectively, cutting cost per meter and turnaround times without compromising the quality of the final product. The press' remote diagnostic tools and advanced automation boost uptime and productivity, while its One Shot Color technology facilitates the laying down of all color separations at once for an even more expedited process.
With technological development moving forward at such a rapid pace, investing in new solutions in this day and age usually comes with questions about life span and long-term usability. Lightning Labels is confident that the press will deliver top-quality labels and stickers for the foreseeable future thanks to its cutting-edge features and the frequency with which enhancements and upgrades are made available to owners.
About Lightning Labels:
Lightning Labels uses state-of-the-art printing technology to provide affordable, full-color custom labels and custom stickers of all shapes and sizes. From small orders for individuals to the bulk needs of big businesses, Lightning Labels is equipped to handle and fulfill custom label and sticker projects of all types. Best of all, like the name implies, Lightning Labels provides a quick turnaround for every customer's labeling needs. Uses for Lightning Labels' custom product labels and custom stickers include food packaging and organic food labels, wine and beverage labels, bath and body labels, and nutraceutical products, such as vitamins, essentials oils, and herbal remedies, as well as event stickers, adhesive window stickers and more. Lightning Labels strongly supports the development of environmentally friendly printing materials and carries EarthFirst PLA, a new kind of green label material made from corn instead of petroleum. While operating as a high-tech printer, Lighting Labels prides itself on its personalized customer service. Lightning Labels provides one stop shopping for all of your custom label needs. For more information and to place orders online, visit LightningLabels.com. For the latest in packaging news and labeling promotional offers, find Lightning Labels on Twitter (@LightningLabels), Facebook, Pinterest, Google and LinkedIn.