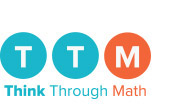 We are pleased to provide educators this powerful new tool so that they have an objective, third party measure of their own students' learning gains.
Pittsburgh, Penn (PRWEB) August 03, 2015
Think Through Learning, creators of Think Through Math (TTM), the award-winning instructional system for grades 3 and above, announced today that it has incorporated high quality benchmark assessments within TTM. The benchmarks use the Quantile® Framework for Mathematics from MetaMetrics® to provide an objective measure of each student's ability level and readiness to learn new math skills and concepts. The benchmarks can be used in place of expensive third party assessments and are included free in the price of TTM. Seamlessly integrated into the flow of TTM lessons, they are easy to use and they eliminate the time consuming and cumbersome process of importing testing data from other systems. The embedded benchmarks accurately measure each student's learning gain across the school year, and can be viewed by educators on their class, school and district level TTM dashboards.
Like its award-winning Lexile® Framework for Reading, MetaMetrics' Quantile® Framework for Mathematics is a scientific scale that measures a student's math achievement level and indicates which topics a student is ready to learn next. Teachers can quickly determine if students are on track to pass year-end assessments, and alter their learning trajectories if need be. Teachers can either customize a lesson path precisely tailored to a student's Quantile ability level or let the TTM adaptive system automatically serve up the right next lesson, whichever they prefer.
"Our team of math teachers and technologists work hard to give teachers innovative tools they can use to help their students succeed. In rigorous research studies involving over 800,000 students, TTM has consistently demonstrated significant learning gains. We are pleased to provide educators this powerful new tool so that they have an objective, third party measure of their own students' learning gains. They can view the Quantile-scaled data on their dashboards, and adapt teaching methods, time on the TTM system and other variables to improve their students' learning trajectories," said Kevin McAliley, CEO.
"Think Through Math is having a positive impact on millions of students across the nation," said Malbert Smith, Ph.D, president and co-founder, MetaMetrics. "We are thrilled to have the opportunity to collaborate with TTM and that our metrics fuel such an innovative math program. To continue to make gains in the STEM field, programs like TTM are essential."
With nearly three million students in more than 170,000 classrooms using Think Through Math, TTM is the fastest growing supplemental math program in the US because of its proven performance. TTM is effective because it not only provides rigorous, adaptive lessons built upon each state's learning standards, it also has online math teachers who tutor struggling TTM students in real-time at the point when they need help, millions of times a year. In addition, TTM's unique, customized motivation increases engagement and builds self-esteem so students increase their time on task. Exceptional instruction, live tutoring and fun motivation work together in this unique system to foster deep conceptual understanding and sustainable gains in math learning. Think Through Math has received numerous awards since its introduction and is expanding rapidly across the US.
For more information visit http://www.thinkthroughmath.com.
About Think Through Learning & Think Through Math
Think Through Learning, a leader in edtech innovation, is transforming math education in schools throughout the United States. Its flagship system, Think Through Math, helps struggling students learn, and love math, allows gifted students to excel, and gives teachers the data they need to help students succeed.
Designed for grades 3 and above, Think Through Math is the only software system that integrates state-certified teachers that tutor struggling students live at the optimal time in the learning process in order to improve their math understanding. Think Through Math ignites curiosity about math and helps students learn how to think mathematically. The 2014 and 2012 recipient of the SIIA CODiE Award for Best Mathematics Instructional Solution, Think Through Math is recognized as the fastest-growing supplemental math software. Since its launch in 2012, Think Through Math has become a critical part of the RTI, STEM, and 1-to-1 strategies of state education departments and thousands of districts and schools across the United States.
About MetaMetrics
MetaMetrics is focused on improving education for learners of all ages and ability levels. The organization develops scientific measures of academic achievement and complementary technologies that link assessment results with real-world instruction. MetaMetrics' products and services for reading (The Lexile® Framework for Reading, El Sistema Lexile® para Leer), mathematics (The Quantile® Framework for Mathematics) and writing (The Lexile® Framework for Writing) provide unique insights about academic ability and the potential for growth, enabling individuals to achieve their goals at every stage of development. Connect with the organization at: quantiles.com.