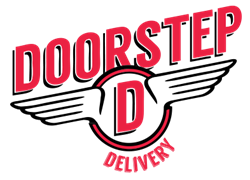 Orlando, FL (PRWEB) August 03, 2015
The largest restaurant delivery service in the Southeast and the largest multi-city independently owned restaurant delivery service in the country "Doorstep Delivery" is set to serve even more customers and restaurants in Central Florida with its continued expansion. Doorstep Delivery is excited to announce 25 new restaurant partnerships within the Central Florida community:

Bento Café (UCF)
Blue 42 (Oviedo)
Bubbalou's Bodacious BBQ (Altamonte Springs)
Café Noir (Winter Park)
East Coast Wings & Grill (Downtown & Waterford Lakes)
Gator's Dockside (SoDo)
Hoodies Saloon & Grill (Longwood)
Jersey Mike's Subs (Winter Springs)
Kasa (Downtown)
Kim Wu Chinese (Kirkman)
Max & Meme Café (Longwood)
Ming's Bistro (Downtown)
Pete's-zah Pizzeria (Downtown)
Pizza@Artegon (I-drive)
Sammy's Gelato & Waffles (Oviedo)
Sugar Divas Cakery (Downtown)
Sushi Lola's (Downtown)
Teak Neighborhood Grill (Kirkman)
TGI Fridays (Lake Buena Vista)
The Greek Corner (Downtown)
Tijuana Flats (Altamonte Springs & Kirkman)
Tomasinos (Winter Springs)
To Duck Pho (Altamonte Springs)
Vincenzo Cucina Italian (Dr. Phillips)
My Yard Farm: Local Organic Grocery Delivery (Winter Park)
Doorstep Delivery not only facilitates deliveries from more than 1,2000 restaurants, but the company also prides itself in providing exceptional marketing service for all of its restaurant clients while using cutting edge technology. Developing their own advanced software, Doorstep offers web and mobile application ordering, giving customers the option to pick up their food and a mapping feature to help them locate their favorite eatery and venture out and experience the food they love delivered in the restaurant itself. For more information on Doorstep Delivery and to make an order, visit http://www.DoorstepDelivery.com.
About Doorstep Delivery:
Originally started in 1999 out of Gainesville, FL as GatorFood.com, Doorstep Delivery is the largest restaurant delivery service in the Southeastern United States with operations in multiple states and over 150 cities. Doorstep Delivery facilitates deliveries for over 1,200 restaurants in total, provides an exceptional marketing service for all its restaurant clients, offers convenience and serves as a complete dining guide for its customers and is on the cutting edge of technology developing its own advanced software. In 2014 alone, the company saw nearly a 50% increase in restaurant sales, a strong indicator that Doorstep Delivery will be a household name in virtually every major city in the U.S.
###
MEDIA CONTACT: Ilene Lieber, 321-277-7812, ilene(at)passionprconsulting.com