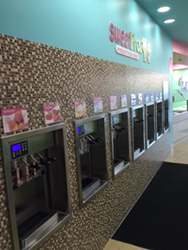 "Our goal is to be the ultimate frozen yogurt experience in Texas."
Richmond, VA (PRWEB) August 03, 2015
sweetFrog Enterprises, LLC. is pleased to announce the reopening of its location in Sherman, Texas. The Sherman location is the 20th sweetFrog store operating in the Lone Star State. The premium frozen yogurt chain was listed as #22 on the Inc. 500 list of fastest growing companies in 2014.
The store, located at 2916 US-75, Sherman, TX 38652, will have grand opening festivities this week to include free t-shirts to the fist 25 guests August 3-6 and on August 7 free shirts to the first 100 guests. In addition, sweetFrog mascots Scoop and Cookie will be on hand August 7-9 ad and the store will give away a year's supply of frozen yogurt to one lucky winner.
"Our goal is to be the ultimate frozen yogurt experience in Texas," said Brandon Price, manager of the Sherman location. "sweetFrog provides an unparalleled experience with every cup of yogurt due to its wide selection of creamy flavors, fresh topping choices and self-serve model,"
About sweetFrog Frozen Yogurt:
Sweet Frog (http://www.sweetfrog.com) is the fastest growing premium, all natural, self-serve frozen yogurt restaurant company in the country. Sweet Frog currently has 345 stores including both company-owned, franchise and independently licensed locations either open or under contract in twenty-four in twenty four states in the U.S, Dominican Republic, United Kingdom and soon to be open in Egypt. The company was founded in 2009 and is based in Richmond, Virginia. Sweet Frog prides itself on providing a family-friendly environment where customers can enjoy soft-serve frozen yogurt, gelato and sorbets with the toppings of their choice. The company was founded on Christian principles and seeks to bring happiness and a positive attitude into the lives of the communities it calls home.
Contact:
Matt Smith, Chief Marketing Officer
matt.smith(at)sweetfrog(dot)net
(804) 835-6796
10800 Midlothian Turnpike, Suite 300
Richmond, VA 23235