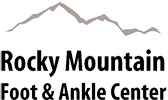 The new website for Rocky Mountain Foot and Ankle Center provides clients with important information about caring for feet and ankles.
Wheat Ridge, Colorado (PRWEB) August 05, 2015
When people suffer from foot or ankle pain, they want a good doctor to give them an accurate diagnosis and appropriate treatment. The podiatrists at Rocky Mountain Foot and Ankle Center know this. They also realize that people hear horror stories about treatment for foot and ankle problems that keep them from getting the care they need. So this medical practice has launched its website to highlight the expertise and knowledge of its doctors and patients to visit them first, before foot pain gets worse. Every podiatrist at Rocky Mountain Foot and Ankle Center is double board-certified in foot surgery and rear foot reconstructive surgery.
Because they are all avid skiers who enjoy the outdoor life, Dr. Matthew Paden, Dr. Brett Sachs, and Dr. Dustin Kruse are determined to give patients great foot care and restore them to enjoying active lifestyles. Their new website—built with the help of Foster Web Marketing, the lawyer and medical practice marketing firm—reflects this dedication to cutting-edge patient care and getting clients back on their feet doing the activities they most enjoy.
The new website for Rocky Mountain Foot and Ankle Center provides clients with important information about caring for feet and ankles. It offers a before and after section that showcases client successes; a client testimonials page; a section with frequently asked questions; and a book offer, Step Wise: A User's Guide to Foot and Ankle Health, filled with helpful tips for keeping feet and ankles safe, healthy, and pain-free. These podiatrists are also building a video library on their website that will include material covering many of their areas of practice, including sports medicine, trauma care, ingrown toenails, and foot and ankle surgery.
Doctors Paden, Sachs, and Kruse understand that convenience can be an important factor when choosing a doctor, and not all patients can travel to the Denver Metro areas for special care. So these podiatrists travel to their patients. Rocky Mountain Foot and Ankle Center has offices in Lakewood, Evergreen, Granby, and Wheat Ridge. And these podiatrists understand that time is important; priding themselves on striving to stay on schedule, so their patients can stay on theirs.
Not only do these podiatrists bring expert knowledge to their practice, they have impressive credentials. Matt is the co-founder of the Highlands Foot and Ankle Institute, and Brett is currently lecturing nationally for the American College of Foot and Ankle Surgeons. He is also the president of the Colorado Foot & Ankle Society. All of the podiatrists at this firm are active in the Highlands/Presbyterian St. Luke's Journal Club, where they lead discussions on current scientific journals relating to foot and ankle surgery. These podiatrists invite patients to visit their new website to learn more about them at http://www.rockymountainfootandanklecenter.com.
About Foster Web Marketing:
Founded in 1998, Foster Web Marketing (FWM) offers attorneys, physicians, and other professionals across North America and overseas an effective online marketing approach that combines appealing and intuitive design with the latest search engine optimization, comprehensive marketing services, and content management strategies. FWM has proven that it is possible to build a "Made in the USA" business with excellent customer service in a very competitive market, all while helping its clients succeed through powerful websites and proven education-based marketing techniques using its proprietary "secret weapon," Dynamic Self-Syndication (DSSTM). To learn more, please visit http://www.FosterWebMarketing.com.