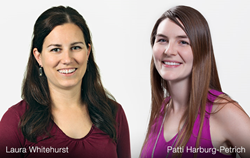 Patti and Laura represent the growing presence and influence of women in our company. Currently over 30% of our staff is female, six of whom are principals. — Lee Slade, Senior Principal and Executive Director of Structures at Walter P Moore
LOS ANGELES / SAN FRANCISCO, CA (PRWEB) August 03, 2015
International engineering firm Walter P Moore congratulates two outstanding engineers in their west coast offices for being honored by their local chapters of the Structural Engineers Association of California (SEAOC). Patti Harburg-Petrich was named Young Engineer of the Year by the Southern California (SC) chapter and Laura Whitehurst received the Edwin G. Zacher service award and the Community Involvement award from the Northern California (NC) chapter.
A structural engineer and LEED® accredited professional at Walter P Moore's Los Angeles office, Patti received SEAOSC's inaugural Young Engineer of the Year award for "the outstanding contributions by a young engineer to the Association, the engineering profession, and the community." Patti is an avid community advocate and enjoys mentoring middle school and high school students through the ACE Mentoring Program, where she was awarded Mentor of the Year in 2013. A long-standing member of SEAOSC, Patti has served on the Communications Committee and the Sustainable Design Committee, which she chaired from 2009-2013.
Also a structural engineer and LEED® accredited professional, but at the firm's San Francisco office, Laura recently received two SEAONC awards and was elected to the Board of Directors, where she'll serve a 2-year term. Laura earned the Edwin G. Zacher award "in recognition for the outstanding contribution to the Association, the engineering profession, and the community," and won the Community Involvement award for her active participation and leadership in numerous community initiatives. Laura has been volunteering with Engineers Alliance for the Arts (EAA) since 2010 and is now the Co-Vice President in charge of the Student Impact Project. She has also been the Chair of the Disaster Emergency Services (DES) committee, is the current Seismology Steel Subcommittee Chair, and is training to be an Urban Search and Rescue Structures Specialist. Laura has a passion for seismic safety of buildings and was recently deployed to Napa, California and Kathmandu, Nepal to assess buildings in the wake of major earthquakes.
About Walter P Moore / http://www.walterpmoore.com
Walter P Moore is an international company of engineers, innovators, and creative people who solve some of the world's most complex structural and infrastructural challenges. Providing structural, diagnostics, civil, traffic, parking, and transportation engineering services, they design solutions that are cost- and resource-efficient, forward-thinking, and help support and shape communities worldwide. Founded in 1931 and headquartered in Houston, Texas, Walter P Moore's 500+ professionals work across 15 U.S. offices and five international locations.
Editor's Note: There is no period after the 'P' in Walter P Moore.
###