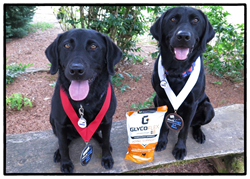 Essex Junction, Vermont (PRWEB) August 03, 2015
VetriScience® Laboratories, the makers of Glyco Flex®, are happy to announce the next four Glyco Flex ® sponsored Dock Dogs events.
The first Glyco Flex ®/Dock Dogs event in August takes place at the Woofa Roo Pet Fest in Amherstburg, OH on August 7 - 9.
On August 13 - 16, Dock Dogs' Glyco Flex® rig lands at the Cabela's Store Special Event in Hamburg, PA.
On August 21 - 23, Dock Dogs' Glyco Flex® rig lands at the Union Fair in Union, ME.
On August 28 – 30, Dock Dogs' Glyco Flex® rig lands at the Fromm Petfest in Milwaukee, WI.
To register for any of the events, email registration(at)dockdogs.com or call 330-241-4975.
As the pioneer joint supplement for dogs and the premier canine aquatics competition respectively, Glyco Flex® and Dock Dogs have formed a natural partnership. Glyco Flex® supports several, individual Dock Dogs' teams. With a commitment to the pool rig and team health in 2015 events, Glyco Flex® has taken its sponsorship and participation to the next level.
Glyco Flex® is recommended for working dogs, senior dogs, active dogs –and any dog in need of advanced joint support. It is formulated to alleviate joint discomfort, support mobility, and address the wear and tear of everyday activity, helping Dock Dogs of every size stay on the circuit.
For more information about Dock Dogs, visit http://www.dockdogs.com. For more information about Glyco Flex®, visit http://www.glycoflex.com.