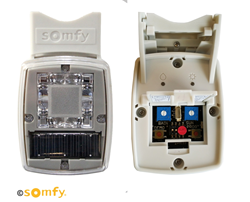 "No matter what Mother Nature has in mind, Somfy has you covered."
Dayton, NJ (PRWEB) August 05, 2015
Somfy Systems, Inc., the world's largest manufacturer of tubular motors for interior and exterior window coverings, is proud to introduce the Ondeis WireFree™ RTS Rain and Sun Sensor. An industry first, this solar-powered and wireless sensor can retract or extend awnings, exterior screens, and rolling shutters based on rain and sun levels to protect belongings. The Ondeis is easily customizable, with the ability to select personalized thresholds for rain and sun, as well as different operation modes for awnings, shutters, and screens.
"Once again, Somfy is on the cutting-edge of innovation by releasing the first-ever wireless rain and sun sensor," said Tom Murphy, Chief Operating Officer of Somfy North America. "The Ondeis WireFree makes it that much easier to protect your awning investment. It's just another way Somfy is building happiness and making life more convenient."
The Ondeis extends Somfy's line of smart and intuitive sensors to make a smart home even smarter. Features of the Ondeis include:

Easy Customization: The Ondeis has six modes of operation and is compatible with all new and existing Radio Technology Somfy® (RTS) motorized awnings, exterior screens, and rolling shutters. Choose between rain or sun protection, or turn on both at once.
Easy Installation: The Ondeis is easy to install, requires no wiring, and can mount flat, on a pole, or even on the gutter thanks to an additional gutter mount. Easy-to-read LED indicator lights make it easy to see which function is working.
Total Protection from the Elements: Protect awnings from rain damage with a sensor that quickly responds to changes in weather, whether users are at home or away. On sunny days enjoy the shade and make the backyard a more comfortable environment thanks to the sun sensor. For complete weather protection, combine the Ondeis with Somfy's Eolis 3D WireFree™ Wind Sensor.
"No matter what Mother Nature has in mind, Somfy has you covered," Murphy said.
Click here to learn more information about the Ondeis WireFree™ Rain and Sun Sensor.
About Somfy Systems, Inc.
Somfy, the global leader in the manufacturing of strong, intelligent, quiet motors and electronic controls for both interior and exterior window coverings with more than 110 million motors produced since 1980, has North American headquarters located in Dayton, NJ. For more than four decades, Somfy engineers have designed products for both commercial and residential markets to motorize window coverings such as interior shades, wood blinds, draperies, awnings, rolling shutters, exterior solar screens and projection screens. Somfy motorization systems are easily integrated with security, HVAC and lighting systems providing total home or building automation. For more information, visit http://www.somfysystems.com