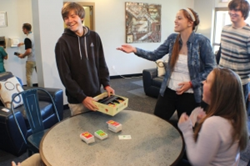 "Elevations RTC facilitates a peer culture of empathy and compassion among a group of students struggling with a variety of issues," says Anna Chauncey CSW, Primary Therapist at Elevations RTC.
Syracuse, UT (PRWEB) August 04, 2015
Elevations RTC, a residential treatment center for teens ages 13-17, helps teens dealing with the behavioral and emotional issues created by cyber bullying. By offering advice for stopping cyberbullying in its tracks, Elevations RTC provides insight into actions to take before negative interactions on the internet occur.
According to a 2015 study by the Education Development Center, cyberbullying is on the rise, particularly amongst teen girls. This study found that the prevalence of smartphones amongst teen girls escalates the issue.
Before cyberbullying happens, Elevations RTC offers the following advice to parents on cyberbullying:
-Maintain open and honest communication. This is key for parents looking to help their teen avoid involvement with cyber bullying, whether they are the victim or the bully.
-Get the child involved. By providing an opportunity for teens to engage in a variety of prosocial extracurricular activities, this helps to encourage healthy social outlets and supports social growth.
-Recognize the signs that your teen is being bullied. Symptoms of bullying include: sudden loss of friends, unexplained injuries, lost or damaged possessions, and difficulty sleeping.
-Recognize the signs that your teen might be the bully. Signs include: not accepting responsibility for actions, having friends who bully, aggressive behavior, getting in trouble with authority figures frequently.
-Monitor your child's internet activity. There are a variety of software options available for monitoring social media and other online activities.
-Keep computers and electronic devices in open areas. This can prevent teens from doing anything inappropriate online because they are in a public space.
As a residential treatment center, Elevations RTC provides teens with the life skills they need to have safe experiences on the internet.
"Elevations RTC facilitates a peer culture of empathy and compassion among a group of students struggling with a variety of issues," says Anna Chauncey CSW, Primary Therapist at Elevations RTC. "We specifically address and discuss bullying program-wide through education and process discussions with students. We also work with individual students to help them practice appropriate Internet and social media use as it relates to their specific issues."
A 2015 study conducted by University of Alberta researchers found an increased likelihood of depression associated with teens exposed to cyberbullying.
Elevations RTC provides assistance for teens dealing with the aftermath of cyberbullying. Utilizing a peer culture model that emphasizes the importance of peer bonding helps treat emotional and behavioral issues such as depression related to cyberbullying.
"We use several different therapeutic approaches for students who have been cyberbullied in the past," commented Chauncey. "Depending on the nature of the specific situation, we utilize trauma work, cognitive behavioral therapy, and an introduction to and involvement with many prosocial activities."
For more information about preventing cyberbullying, please visit:
-StopBullying.gov : http://www.stopbullying.gov/cyberbullying/prevention/
____________________________________________________
Elevations RTC is a unique residential treatment center that works with both young men and women ages 13 - 17. Elevations offers guidance, support and relief to young men and women struggling with issues like trauma, depression, mood disorders, behavioral problems, and substance abuse. Elevations RTC is located in Utah and provides specialized, clinically intensive programs to struggling teens. For more information, please call 1-855-290-9681.