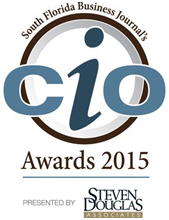 Fort Lauderdale, Florida (PRWEB) August 04, 2015
Steven Douglas Associates, one of the nation's leading boutique search and project-based professional service firms, has once again partnered with the South Florida Business Journal to sponsor the 2015 CIO Awards for the third consecutive year. The CIO Awards brings together over 300 people to honor the top chief information officers who have lead their organizations in delivering business value and innovative use of IT in both the private and public company sector. The South Florida Business Journal CIO Awards honors those South Florida based CIOs who have positively impacted their company and have made a difference in their community.
In order to be eligible for an award, CIOs should demonstrate the following characteristics: the ability to work productively with business partners, innovation either internally or in the form of new products or services, growth in their information technology team, demonstration of strong leadership, and involvement in the community. All eligible candidates should perform the top technology executive role at their company; the company should have a minimum of 10 employees, and be in business for a minimum of two full years.
Applications for consideration are currently available here and will close at the end of August. A complete application must be received in order to be considered for an award. Finalists will be notified via formal letter and email from South Florida Business Journal in early September.
The 2015 South Florida CIO Awards Ceremony will be held October 15 in Fort Lauderdale.
For more information on the CIO Awards click here.