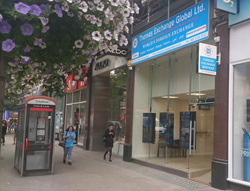 Foreign currency specialist Thomas Exchange Global Ltd just opened its 11th London-based branch on Kensington High Street.
(PRWEB UK) 10 August 2015
Foreign currency specialist Thomas Exchange Global Ltd just opened its 11th London-based branch on Kensington High Street. Conveniently located at the main shopping area of the affluent high street and stone's throw away from the High Street Kensington tube station, the branch will offer travel money services and international money transfers to local residents and businesses in the area.
Strategically located in one of west London's busiest shopping areas, the new Kensington High Street location is just one in a series of new branches that Thomas Exchange Global is planning on opening this year. The territorial expansion is a strategic part of the company's intention to provide more comprehensive and accessible travel money services to meet the increase in demand by Londoners.
The sheer volume of traffic moving through the prosperous location will enable Thomas Exchange Global to cater to some of the most affluent people in London–drawing in residents from nearby South Kensington, Mayfair, and Brompton Road amongst other neighbourhoods in the vicinity. The area is densely populated with residents and businesses that have the greatest need for travel money and international money transfers, posing a great opportunity for TEG to increase its presence in the London market.
The new branch will also provide added convenience to the travel-oriented workforce from the number of leading media organizations based in Kensington.
"Our new branch accommodates travel money services and international bank transfers with over 120 different types of foreign bank notes kept in stock, and we provide delivery for several other money-related services–all under the same roof. It was designed to provide ease, comfort, and privacy, with both corporate and personal customers in mind," stated Senior Manager of Thomas Exchange Global Trevor Samuel.
The branch was designed to offer personalised international money services with private cubicles to cater to clients who need to transact large volumes of money in complete seclusion.
Thomas Exchange Global offers the largest variety of foreign bank notes with 120 different types readily available at all of its branches to be purchased without any waiting time and with personalised service by experienced forex dealers for overseas money transfers.
Thomas Exchange Global branches are located at Strand, Victoria Street, Liverpool Street, London Wall, Hammersmith, Cannon Street, Wormwood Street, Victoria Place (Victoria rail Station), Canary Wharf and Richmond.
For further details please visit: http://www.thomasexchangeglobal.co.uk, or call 020 7240 1214.
About Thomas Exchange Global:
As dedicated foreign exchange specialists, Thomas Exchange Global has the professional expertise, in depth market knowledge, technological infrastructure and commitment to provide an unprecedented level of service that sets the standard in the foreign exchange industry. They are specialists in all areas of foreign exchange. They provide commission free currency as well as travelers cheques.
Thomas Exchange Global also offers International Money Transfer Service where funds can be remitted to overseas bank accounts within 1 to 2 days. With commission free service for transfers over £10,000 backed by competitive exchange rates, customers are assured of a better deal and a substantial saving compared to banks and money brokers.