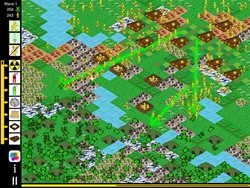 (PRWEB) August 05, 2015
"Epic Bug War" was featured on NewsWatch as part of its monthly AppWatch, which takes a look at the latest and coolest applications on the market for iOS, Android, and Windows. Joe Toohey, the host of AppWatch and technology expert, conducted the app review and shared with viewers how this is an addicting strategy game with tons of features for bug-killing fun.
Users battle hordes or fire-breathing alien bus with laser-equipped bug fighters. It's a full-blown war where at some points in the game users can have dozens of battles on their screen at the same time and up to 1,400 combatants.
Players are armed with sugar, smoke, bug repellant, bug spray and radiation in order to kill the alien hordes. Despite the chaos, this is a strategy game. Players can draw arrows to direct bug fighters to where they're need in battle. It's up to the player where they decide where they want to place their forts for defense and their settlements for producing more bug fighters.
There's tricks like luring in the bugs with sugar, stunning them with smoke and taking them out with bug spray. There's also ways to merge bug fighters into more powerful fighters. The game is broken up into waves of bugs instead of simply levels. And there are hundreds of waves so players can prepare to get addicted. For 99 cents, there is no in-app purchases or pesky ads, only pesky bugs.
To learn more about Epic Bug War, visit http://www.epicbugwar.com today.
About NewsWatch
NewsWatch is a weekly 30-minute consumer oriented television show that airs on the Discovery Channel and ION Network. NewsWatch regularly features top technology products and services, mobile applications for iOS, Android, and Windows devices, unique and beautiful travel destinations around the world, health and medical tips, and entertainment interviews on the show. NewsWatch airs on the Discovery Channel at 7:00 – 7:30 AM ET/PT.
NewsWatch is located in the greater Washington, DC area and has been on air for over 25 years. For more information or to watch the most recent episode, visit http://newswatchtv.com/appwatch.html.