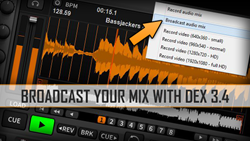 "Users of DEX 3 can now broadcast their mix show online using the built-in Icecast support. Internet Radio is big, and offers a platform for new DJ software users to hone their DJ skills in front of a virtual audience; says PCDJ's G.M., Ryan Sherr
Clearwater, FL (PRWEB) August 05, 2015
"With each update DEX 3 is fine-tuned to meet the vast requirements of today's versatile Digital DJ" says Digital 1 Audio's General Manager Ryan Sherr. "The 3.4 update introduces a few highly-requested features, most notably the ability to real-time connect (or disconnect) up to 8 DJ controllers, Windows 10 support as well as internet radio broadcasting." Sherr Continues "Users of DEX 3 can now broadcast their mix show online using the built-in Icecast support. Internet Radio is big, and offers a platform for new DJ software users to hone their DJ skills in front of a virtual audience."
Here are some of the notable features and/or improvements in DEX 3.4:

Revamped BPM detection engine: DJs can count on more accurate BPMs and beat grids, making sync and beat aware effects work more effectively;
Windows 10 Fully Supported: Can safely upgrade machine to Windows 10;
Icecast support: Can now broadcast DJ live mix online;
Scratch tab/panel on the 2-decks skins: New scratch tab displayed side-by-side waveforms for easy visual beat sync and scratching reference;
Loop points: Can now save and recall loops using a new loops/cues toggle;
Loop "Slip mode" setting: When exiting a loop in slip mode the track will continue as if no looping occurred (from the position it ought to be);
Auto-Cueing completely revamped:
Automatically detected mix-in and mix-out cue points (IN/OUT) – trimming off silence automatically;
Setting to use either soft sounds or percussion for the in/out cue points detection (can have it skip quiet intros, or start at the first audible sound);
Setting to utilize the new autocue when loading and for Auto-Mix;

Effects engine refactoring: Overall effects quality improvements and leveling;
Revamped Effects: Bit Crusher – Robot Delay – Temolo – And new redesigned High-Pass and Low-Pass Filters;
Various Samplers improvements: Includes Sampler play modes (normal, stutter, instant/momentary), recording, waveform, cutoff filter, monitoring (pre-listen);
DJ Controller Support: Controllers can now be detected using USB VID:PID also on Mac;
Automatic detection of arrival/removal of DJ MIDI controllers: Can now plug-in or disconnect DJ controllers DEX 3.4 is running. EXPLANATION: Able to start DEX 3.4 and connect or disconnect any (supported DJ controller) MIDI controller and DEX 3.4 will detect it on-the-fly. Can start DEX 3.4 without a DJ controller connected and then add or remove controllers (up to 8 at the same time) and they will be detected and start working automatically and immediately. DJ controller detection works on both Mac and Windows. This feature is really great if a controller hangs for some reason (user would simply power it off and then back on — or remove it and then add it back) ; alternatively, user may want to hook an additional controller (for additional control over features like the sampler);
Denon MC-6000 MKII DJ Controller is fully supported;
Numark Mixtrack Pro 3 DJ Controller is fully supported;
Search Change: When exiting search DEX 3.4 restores the last viewed list/folder;
Graphics rendering improvements: Graphics will appear sharper with very sharp on-screen text;
Drag & drop files from Explorer / Finder: Can now drag files from windows explorer directly into DEX 3.4 lists (current list or side list);
Various performance optimizations.
PCDJ DEX 3.4's manufacturer's suggested retail price is $179 (existing PCDJ software product users can call for special upgrade pricing)
For more product information and a free evaluation version of PCDJ DEX 3.1 please visit:
http://www.pcdj.com/dj-software/dex-3/
For marketing or dealer inquiries, Contact:
Digital 1 Audio
611 S. Ft. Harrison Ave., #317
Clearwater, FL 33756
877-999-7235 ext 402
rsherr(at)pcdj(dot)com
Recommended System Requirements:
Windows: 7, 8, 8.1, 10
MAC: OSX 10.8 or higher
2.5GHz Intel Core 2 Duo / Core 2 Quad / Core i3/i5/i7 / AMD Phenon
4 GIG RAM or Better
Video card: Dedicated graphics card with at least 512MB RAM
DirectX/ASIO compatible multichannel soundcard (Mac: multichannel Core Audio soundcard)
200 MB free on the hard-drive
Since 1999, Digital 1 Audio/PCDJ has been recognized as a leading developer and manufacturer of DJ and Karaoke live performance software. More than 80,000 professional DJs around the world now spin with their computer using one of company's entertainment products.